Rift
Conflict resolution for the Warcraft weary?
Always in control
As for PVP I checked out Port Scion and was unsurprised to find myself playing Alterac Valley, but without those pesky rams.
That said, I did manage to find a couple of plus points. This game is all about helping to close rifts and the more you battle your way through the legions the more you get out of it. Even though this is the fundamental focus of the game, it often felt repetitive. No trouble finding groups, either classes are often interchangeable, so not everyone is waiting on a healer or a tank to show up.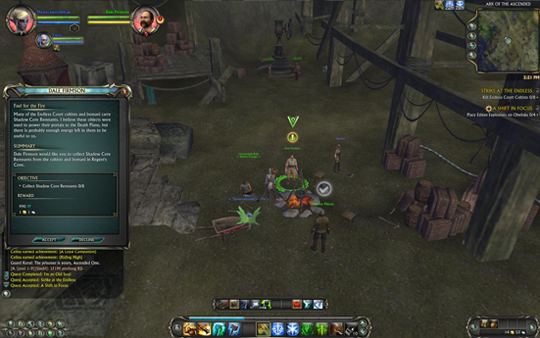 Get off my camp
The user interface was pretty and easy to use. There's a Rift keyboard layout card in the box too, along with a tidy map that came in very handy. I also loved how easy it was to locate your current mission with a click on a button, as that saves on time spent wandering around in circles. More to the point, there seemed to be little lag to get frustrated about and no bugs to speak of.
But the graphics felt very 'meh' looking and so very last Tuesday, if last Tuesday was like eight years ago. After all, ashen grey brown is the palette of choice for the first few levels and this is what's supposed to draw you in and hold you for the next 30 days till your subscription kicks in. Things did pick up towards the end of the grind and I did get a peek at some impressive vistas. I guess I am just a cartoon whore and the visuals made me miss WoW all the more, bringing back memories of how disappointed I felt looking at Warhammer Online and Age of Conan.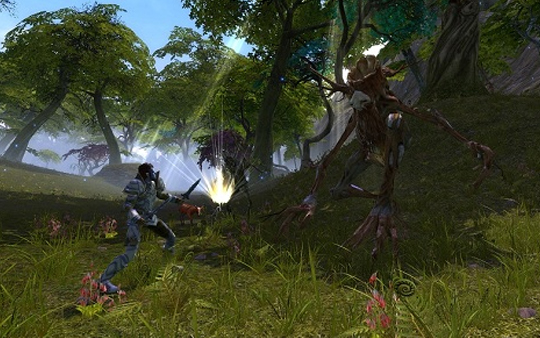 Things come in trees
Verdict
There is no denying Rift is well packaged but do I want to be notching up sub fees and playing it when I can see sunshine through the curtains for the first time in months? Spring is around the corner not to mention Witcher 2, and maybe even Diablo 3. So no, if you need me I'll be in the garden barbecuing with the ferrets. ®
More Games Reviews

Dragon Age
II
DC Universe
Online
Mass Effect 2
For PS3
World of Warcraft:
Cataclysm
Fable 3

Rift
Give me back my cow and I won't hurt the fairy. Available on PC only
Price:
£35, £9 per month RRP