Priced to sell?
When it hits the streets the Slider will run Android 3.0 Honeycomb but the pre-release model I got to play with only had Android 2.3 Gingerbread installed, plus Asus' own UI overlay. Android versions aside, the OS runs like the proverbial off a shovel and the touchscreen interface is very fluid.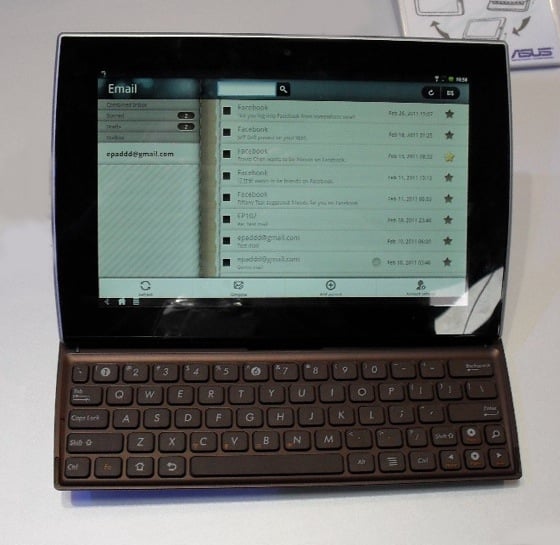 The smartbook revived?
But the best bit is the price. When I asked the Eee Pad Slider's minder what the selling price would start at he replied, "Four hundred dollars".
"You mean Euros?" I asked.
"No, US dollars."
Now, if that's right we are looking at less than £300 including VAT for the 16GB Wi-Fi only model.
At that that price I'm buying two and keeping one for the weekend. Even at €400 (£340), it's decent value so, fingers crossed, the guy had his currencies right and that Asus hits its "May/June" shipping target.
Verdict
Asus' Eee Pad Slider has the internals and look to match any of the latest Android tablets, but with a neat smartphone trick: a slide-out Qwerty keypad. Netbook fans who hate tablets because they lack keyboards will need to think again. ®
More Tablet Reviews

Dixons
Advent
Vega
Creative
Ziio
Viewsonic
ViewPad 7
Archos
101
Samsung
Galaxy
Tab

Asus Eee Pad Slider
10in Android tablet with an slide-down Qwerty keypad. How a netbook should be?
COMMENTS
Price
I was working on $400 = £250 (at today's exchange rate) plus 20% VAT = £300. I asked the Asus PR if $400 was the likely to be the local US price or the equivalent Euro / Sterling, and he said the latter. How true that will turn out to be, well, your guess is as good as mine.
Be that as it may, I was expecting to be told the price would be more in the region of 500 Euro so it still sounds like a good deal.
As for the fingerprints, sorry about that - it was a scrum at the stand and trying to get any shots was hard work. Giving one of the devices a polish and getting all Lord Lichfield on it was a non-starter.
Errrr
"Or indeed some kind of linux?"
You mean like Android? :-p
Finally....
Finally, an ARM based portable device with a keyboard.
Best of everything: Portable, decent battery life, hardware acceleration, able to create as well as consume content (unlike the Ipads, thanks to the keyboard).
It feels like it's been an age to come. Remember when everyone was getting excited about the ARM based netbooks 2+ years ago? Yeah, they never turned up.
If the price is right I'll be picking up one of these for sure.
The answer is obvious
My phone runs Debian. Sorry, Maemo, but come on, it's Debian. Why is that awesome, pray tell? Well, aside from the obvious bonus of not having an arbitrary abstraction layer keeping me away from my own hardware and sucking resources in the process, it means I don't have to do anything half-arsed.
I don't have to download some God-awful SSH client from the Market that will forget everything it was doing the minute I try to check my e-mail at the same time, and doesn't support landscape mode. I just hold a couple of buttons and up pops Bash, with ssh, grep, tail etc all ready to go. (Trying to do remote server admin on any portable device that isn't Linux-based is just PAINFUL, and potentially costly.)
I don't have to piss around with Opera Mini and Firefox Home, when Opera Mobile and Fennec are available.
I don't have to pay over the odds to get overly expensive shitty touchscreen remakes of games I never liked. My phone runs DOSbox!
I can edit code on my device without feeling like I've lost several fingers and my colour perception. What's Android got? SilverEdit? Give me a bloody break.
I can dick about with my device as much as I like, binding PS3 controllers to it and playing Mario World on the projector at work in my lunchbreak, and no-one will tell me I'm not allowed to, nor do I have to re-flash the device to pull that off.
*That's* why you put Linux on the device. Not because it's supposedly not as polished, not because it takes some tweaks to get working, but because it means you can do more with the device, with less interference, for no cash.
The first person I showed this article to came out with "nice machine, but if I can't get Android off it, then knackers to it." Personally I'd love to have this thing dual boot a Linux distro and MeeGo Tablet, just for a laugh.
Look at the price of current atom tablets
Even taking any windows tax into account the Intel Atom tax and its weakness in the power saving stakes compared to Arm makes it very hard for an atom tablet competitive with an Arm one.