Best of both worlds
With so little physical depth the keys don't have much travel – think large calculator – but it's a much better option than a display-obscuring virtual keyboard, especially if you want to do some serious typing. The keys themselves have a soft, rubberised feel to them which isn't unpleasant to the touch.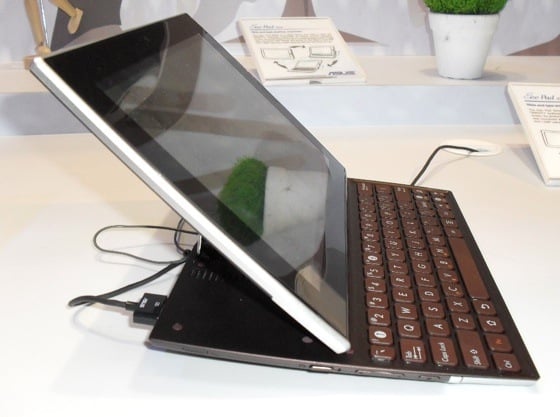 The slider mechanism seems well engineered...
There's no trackpad. If the keyboard was made deep enough the house one, the entire unfolding design would go out the window. Of course, with a touchscreen you don't really need a track pad, but it would save having to reach up to click on things.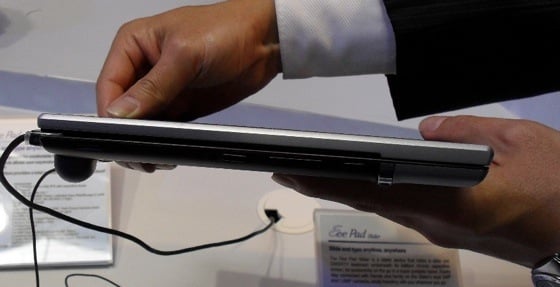 ...but it makes for a thick tablet
The assembly is impressively stable and solid, with no hint of flex or wobble. It's less likely to fall over backwards than your average laptop or netbook. The open/close mechanism is very well engineered too. Fold it shut to use as a tablet and it stays folded shut.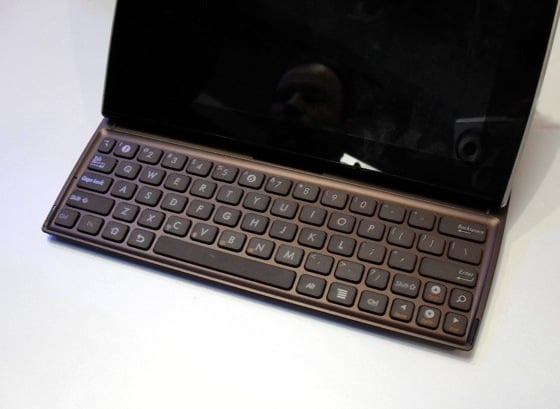 The rubberised keyboard is comfortable to use
Inside the Slider sits an Nvidia Tegra 2 chipset with 1GB of Ram and a choice of 16, 32 or 64GB of Flash storage. Wireless communication is taken care of by 2.4GHz 802.11n Wi-Fi and Bluetooth 2.1. A 3G wireless module will be an optional extra, Asus told me.
Other goodies include a USB port, mini HDMI, and 1.2Mp front-facing and 5MP rear-facing cameras.
COMMENTS
Price
I was working on $400 = £250 (at today's exchange rate) plus 20% VAT = £300. I asked the Asus PR if $400 was the likely to be the local US price or the equivalent Euro / Sterling, and he said the latter. How true that will turn out to be, well, your guess is as good as mine.
Be that as it may, I was expecting to be told the price would be more in the region of 500 Euro so it still sounds like a good deal.
As for the fingerprints, sorry about that - it was a scrum at the stand and trying to get any shots was hard work. Giving one of the devices a polish and getting all Lord Lichfield on it was a non-starter.
Errrr
"Or indeed some kind of linux?"
You mean like Android? :-p
Finally....
Finally, an ARM based portable device with a keyboard.
Best of everything: Portable, decent battery life, hardware acceleration, able to create as well as consume content (unlike the Ipads, thanks to the keyboard).
It feels like it's been an age to come. Remember when everyone was getting excited about the ARM based netbooks 2+ years ago? Yeah, they never turned up.
If the price is right I'll be picking up one of these for sure.
The answer is obvious
My phone runs Debian. Sorry, Maemo, but come on, it's Debian. Why is that awesome, pray tell? Well, aside from the obvious bonus of not having an arbitrary abstraction layer keeping me away from my own hardware and sucking resources in the process, it means I don't have to do anything half-arsed.
I don't have to download some God-awful SSH client from the Market that will forget everything it was doing the minute I try to check my e-mail at the same time, and doesn't support landscape mode. I just hold a couple of buttons and up pops Bash, with ssh, grep, tail etc all ready to go. (Trying to do remote server admin on any portable device that isn't Linux-based is just PAINFUL, and potentially costly.)
I don't have to piss around with Opera Mini and Firefox Home, when Opera Mobile and Fennec are available.
I don't have to pay over the odds to get overly expensive shitty touchscreen remakes of games I never liked. My phone runs DOSbox!
I can edit code on my device without feeling like I've lost several fingers and my colour perception. What's Android got? SilverEdit? Give me a bloody break.
I can dick about with my device as much as I like, binding PS3 controllers to it and playing Mario World on the projector at work in my lunchbreak, and no-one will tell me I'm not allowed to, nor do I have to re-flash the device to pull that off.
*That's* why you put Linux on the device. Not because it's supposedly not as polished, not because it takes some tweaks to get working, but because it means you can do more with the device, with less interference, for no cash.
The first person I showed this article to came out with "nice machine, but if I can't get Android off it, then knackers to it." Personally I'd love to have this thing dual boot a Linux distro and MeeGo Tablet, just for a laugh.
Look at the price of current atom tablets
Even taking any windows tax into account the Intel Atom tax and its weakness in the power saving stakes compared to Arm makes it very hard for an atom tablet competitive with an Arm one.