Apple MacBook Pro 15in
Sandy Bridge stunner
So he strikes like Thunderbolt
Other than the internals, there's little difference between the new MBP and the old one. They look identical, with only the lightning icon alongside the DisplayPort mini connector to indicate a change: the addition of the as-yet-useless Intel Thunderbolt 10Gb/s IO technology.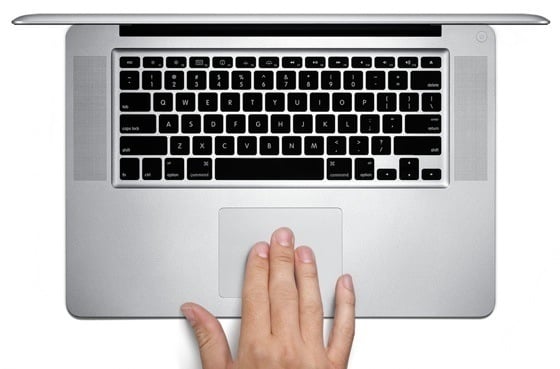 A nice, backlit keyboard and a big, joy-to-use touchpad
Again, I'd like to stress Apple's inclusion of a 3x3 antenna 802.11n Wi-Fi card. It's an uncommon addition in these financially strained times. Many rival vendors sneak in 1x1 cards. These can also claim 802.11n compatibility, but you'll get no more than 72Mb/s out of them - the MBP's adaptor will go up to 300Mb/s. It will also operate in the relatively noise-free 5GHz band, as well as the busy 2.4GHz space.
Actual speeds depend on the relative positioning of laptop and router, the construction of the building they're in and the presence of other wireless networks, but the Apple adaptor will give you better speed and resilience.

Still rare in notebooks, the backlit keyboard in the 15in MBP deserves a mention - and Apple plaudits for continuing to implement this bloody useful feature.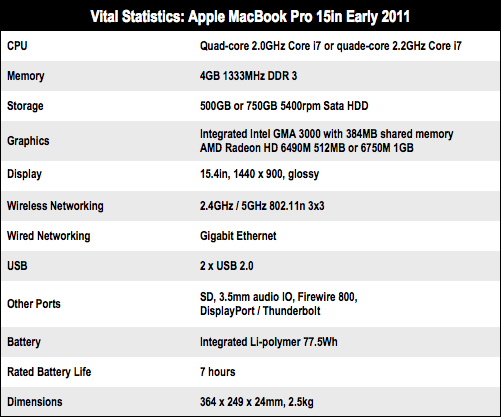 Sponsored: Minds Mastering Machines - Call for papers now open