Apple MacBook Pro 15in
Sandy Bridge stunner
Maximum power
With gfxCardStatus installed in Mac OS X's menu bar, you can flip at will between integrated and discrete graphics cores. No reboot necessary. This is a godsend for a reviewer, and I used it to test the 15in MBP separately for each GPU.
Geekbench 2.1 results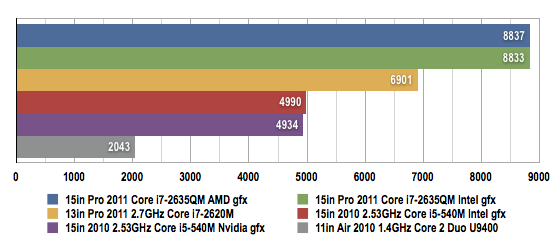 Longer bars are better
I ran both Geekbench 2 and Xbench 1.3 for Mac-to-Mac comparisons, and you can see from the Geekbench scores how much of a lift the new Intel CPUs bring over both the previous generation of Core i and Core 2 Duo.
So does re-encoding an 720p HD video using Handbrake - a more real-world test than the benchmarks. The new CPUs drastically cut the time it takes to encode H.264 footage when compared to the previous generation of 15in MBP.
Long-in-the-tooth Xbench isn't HyperThreading savvy so its CPU scores scale with clock speed. That's why the new 15in MBP scores less well than the 13in model - the latter's CPU runs at a higher clock frequency, though it has half the number of cores.
Handbrake 0.9.5 HD encoding results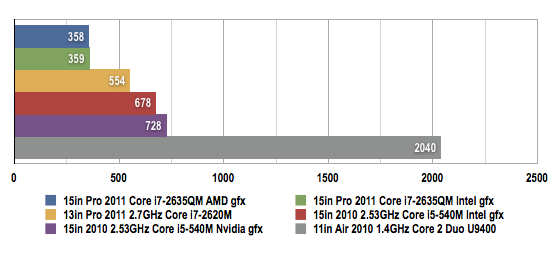 Time in Minutes
Shorter bars are better
But Xbench's Threads test does show the how the 15in MBP's four cores, each capable of running two threads simultaneously - what Intel calls HyperThreading - can get more work done.
Sponsored: Minds Mastering Machines - Call for papers now open