Push past PCs
PCMark Vantage's scores again show the performance of the new Core i family. The 3DMark 06 figures show the AMD GPU at work - and how it delivers a much better score than Intel's integrated GPU.
PCMark Vantage results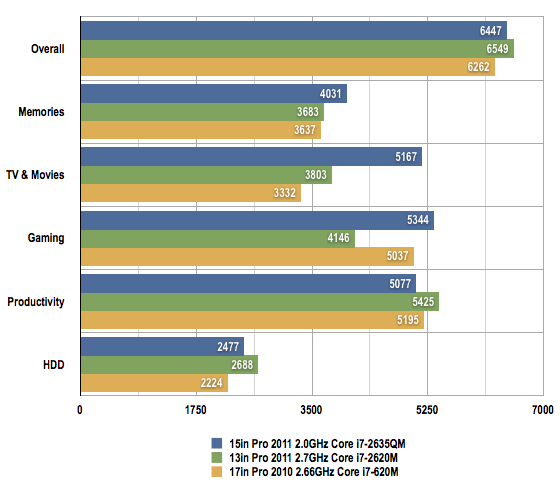 Longer bars are better
PCMark Vantage also forms the basis for Reg Hardware's battery test: loop the CPU-eating benchmark until the battery gives out. The 15in MBP ran for a decent 108 minutes. OK, that's not quite the seven hours Apple claims, but the PCMark Vantage loop test puts way more stress on the system than regular usage does and provides a good worse case scenario reading that can be directly compared to other laptops' results - unlike the figures handed out by vendors.
I can well see that, in the real world, the 15in MBP will give you six hours plus runtime - more if you drop the screen brightness - set to max for the test - and turn off Wi-Fi and Bluetooth.
3DMark06 results

Longer bars are better
The 3DMark 06 figures show the MBP's Radeon HD graphics clearly surpass the latest Intel integrated GPU at the same resolution. The Radeon figure is good for a mobile graphics chip, and the PCMark Vantage numbers show the machine is no sub-PC slouch.
COMMENTS
Like for like, Apple's good value for money
Expensive compared with what? A top-end Viao F series is (Sony's site is so damn slow it's timed out) - maybe it knows I'm just comparing prices. What a crap website.
Looking at other websites, there's no like-for-like comparison, e.g. with an equivalent processor, hard disc, memory, GPU, etc. From past experience their top-end machines cost as much if not more than Apple's machines and they're made from plastic and run "windows".
Checking Dell's website (that works although is very noisy) a "Precision M4500" specced up with an inferior 2.13GHz I7, etc. came to £2230. This is plastic and runs "windows".
Checking on the Apple website (it works and is fast - Sony take note), even when speccing up the machine to the max (8Gb, 2.3 quad-core I7, high-res screen) it's less than £2300. Perfectly reasonable price for a professional -- my plumber spends more than that on tools in his van.
BTW, speccing the Macbook with the slower 2.2GHz processor reduced the cost to under £2100, e.g. better performance for much less than the Dell.
From my own experience, Apple laptops are very much designed as workhorse machines.
The Viaos I've had in the past have really shown their age after a short amount of time as the plastic wears away and it cracks and creaks. IMO Dells are fugly, fully living up to their corporate drone persona, yuck.
Bad example, bad comparison
That's not a very good example to compare against. A 17.3" screen with 1600x900 resolution? That's bargain bin trash...
Can you give us real world battery life on that thing? Less than the Mac? Oh... no dual graphic cards that autoswitch to conserve energy AND a 17.3 inch screen to light up.. ok.
Also, fitting the components within a bigger chassis is easier. Dropping the pitch of the screen significantly reduces a part of the cost, and gives an indicator towards the cost saving measures taken in other parts of the device.
I seem to recall a story about people complaining about the 27" iMac being expensive, but a closer examination showed that if you wanted the same quality screen (IPS) in that size you could also buy a hard drive and a keyboard before hitting the price of the complete iMac.... The quality of each component counts.
Don't get me wrong, I really like ASUS. I used to sell and service their machines and if I were to buy a computer for Linux or, against all odd, Windows, then ASUS would be among the first I would examine. Relatively cheap, and extremely good for the price.
Just a crap comparison.
Re: Like for like, Apple's good value for money
I buy Apple laptops for the spec and build quality. As you point out, comparing like for like they are pretty good value. I actually run Linux on them, so to me Apple are just another laptop vendor, and I could certainly go elsewhere to make my purchase if the quality and spec wasn't so good.
for someone with "2 intel apples"
you seem unaware that apple's trackpads are two button. and three button.and four button. what part of "tap with two fingers for right-click" do you find "inelegant"? or even a work-around? have you ever used one?
Desktop replacement?
A what replacement? I don't even remember what a desktop computer is. I replaced my last desktop with a PBG4 the day they came out, ten years ago, and never looked back!