Amazon killer erupts from Icelandic volcanos
Greenqloud hangs over Europe
Power problem
The problem is that PUE doesn't discriminate among the different sources of power generation, and that although it has been updated by The Green Grid with PUEx, which factors in where a given measurement is taken, the system is still difficult to explain. Also it doesn't provide a completely accurate server-greenness gauge because it rates the entire data center rather than just measuring the power consumption of the servers.
Hanson's GPUE is based on PUE, but it ascribes a value to each power source. That value is based on a 2008 study by the academic and author Benjamin Sovacool, who gives the hydro-reservoir, hydro-river, and geothermal sources that Greenqloud uses values of 10, 13, and 38, respectively. Heavy oil and coal – used by others – get 778 and 960. You can read more about the GPUE scheme on Greenqloud's company blog.
You could argue that by bringing his own metric to the game Hrafnsson is only confusing the debate further – especially given that GPUE is used only by Greenqloud. Also, some who think nuclear is a stepping stone to a green planet (except when it melts down, naturally) take exception to Sovacool's numbers because he gives fuels they favor such a heavy rating.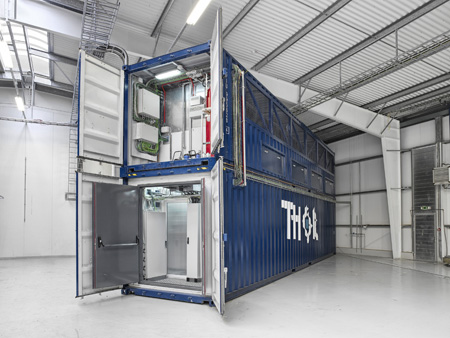 Greenqloud's home: Iceland's Thor data center
Hrafnsson responds that GPUE is a more-accurate yardstick for data centers than PUE, and is also easier to calculate and understand. "We can use it to calculate the actual emissions per usable kilowatt hour. It tells you how much energy goes to waste in cooling," Hrafnsson tells us. "Our goal was to raise awareness and help data centers that are truly green fight their green-washing counterparts."
Think globally, generate locally
The lion's share of Iceland's electricity is produced using renewable sources: 85 per cent of it electricity is generated using hydroelectric power, as falling or running water turns the fans of power-station turbines. Geothermal power generation, which uses hot water warmed volcanically underground, is another big resource, harnessed by using high-pressure steam to drive power-station turbine blades. Furthermore, Icelandic boffins are now looking to tap the heat of volcanic magma oozing beneath the island's crust to generate even more 'leccy.
Last year's Eyjafjallajökull eruption and the country's seemingly endless supply of geysers, glaciers, and magma flows might create the impression that Iceland has a monopoly on hydroelectric and geothermal power – but that impression would be wrong. In fact, the country is not even the world's top producer of power from these sources.
The US is the number-one generator of electricity using geothermal sources, with Iceland seventh, according to the Geothermal Energy Association (PDF). In hydroelectric power, the US is second only to Canada, thanks to its massive dam-building campaign in the last century.
"It's a myth green energy is more expensive or less available – one of the biggest producers of geothermal is the US!" Hrafnsson exclaims, suggesting others could get in on the Iceland act.
Greenqloud is not just sucking in green electricity. It has also taken steps to minimize the amount it uses, while harnessing natural techniques to cool down its servers.
For example, the heat sinks cooling those server's 8- and 12- core Opteron 6100s have been swapped out for more-efficient ones through work with systems integrator Very PC.
Also, Greenqloud is housed in Iceland's Thor data center, whose managing director Jon Viggo Gunnarsson tells us cools its servers using "natural free cooling technology". Because of Iceland's low ambient air temperature, servers can be cooled without any additional chilling technology.
Thor's home – Hafnarfjörður, near Reykjavík – sees winter temperatures drop to 32-44F (0-7C), which are among the warmest digits on the mercury in Iceland for that time of year. During the height of summer, temperatures bump up to 47-60F (9-14C). Greenqloud's GPUE would tend to favor any cloud provider with its servers in chilly Iceland, and that's probably something Hrafnsson is banking on against Amazon and others.
'My cloud's greener than your cloud'
Hydroelectric and geothermal power generation contribute a relatively small percentage of the electricity that's used by cloud providers such as Amazon who tap into the national grid in the US. Fossil fuels – coal, especially – dominate in the US, meaning that under Hrafnsson's GPUE, their metric will always be higher because their electricity supply is tainted at its source by fossil fuels.
That'll hurt Amazon in addition to Microsoft and Salesforce. All three are running thousands upon thousands of servers in the US, as well as in Europe and Singapore. Amazon has machines in northern Virginia and northern California, Microsoft in Illinois, Texas, and Washington State, and Salesforce has two data centers apiece in Illinois and northern Virginia, along with facilities in San Francisco and San Jose.
Such providers, however, could soon be armed with another metric that helps them fight back. Just last December, The Green Grid introduced its Carbon Usage Effectiveness (CUE) metric to measure emissions associated with data centers. It's something even Hrafnsson is positive about, although he says GPUE remains easier to "get".
"The data-center world also has The Green Grid's CUE metric, which is great," he says. "GPUE is still much easier to calculate and understand because it was made to compare with PUE (which has a similar scale) but CUE is more comprehensive."
Sponsored: Minds Mastering Machines - Call for papers now open