iPad slaps Acer, pumps Dell's number two PC maker rank
'Thanks, Steve – we owe you one'
Dell has strengthed its position as the number-two PC seller in the world, thanks to Apple's iPad kicking Acer in a place it'd have preferred not to have been kicked.
And no, we're not talking about that place, we're talking about netbook numbers.
"Acer's decline was spurred by rising competition for its consumer-focused netbook and notebook computers from the iPad and other media tablets," say the analysts at IHS iSuppli in a report released on Thursday.

The fourth quarter of last year was one that Acer might prefer to forget (click to enlarge)
Although HP remains el numero uno – as it has for seemingly aeons – Dell snuggles behind HP's 19.2 per cent Q4 2010 market share with a healthy 12.1 per cent market share of its own.
Dell's growing lead over number-three Acer isn't due to any sales surge – Acer's sales are plunging. Dell's PC sales were essentially flat between the third and fourth quarter of 2010. Acer's sank a stomach-clamping 12.9 per cent.
Last year at this time, it was hard to see how Dell could regain the number two position that it had lost to Acer. In that far-away time, netbook sales were solid, and the iPad was but a twinkle in Steve Jobs' eye.
"A little more than one year after a prolonged decline in shipments caused Dell to lose its customary second-place ranking to rival Acer, Dell now seems to have regained a firm hold on the No. 2 rank," said Matthew Wilkins, an analyst at IHS, which acquired iSuppli last November.
"Acer in the third quarter of 2009 had surged to the No. 2 spot on the strength of its strong sales of netbook PCs to consumers and a generally buoyant consumer market," Wilkins continued. "However, with momentum for consumer PCs waning and in light of growing competition from media tablets, Acer's gains have been reversed."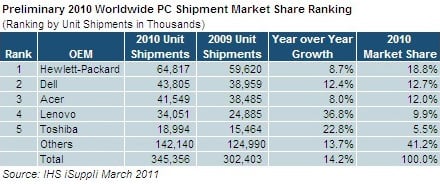 Hmm... it seems that the smart money might be on that PC megacorp named "Others"
Acer might take some consolation from its overall 2010 numbers – but it'd be a false hope. Although IHS iSuppli's numbers show Acer trailing Dell by a mere 0.7 per cent market share for the year as a whole, the trend lines aren't pointing in the right direction for the Taiwanese PC giant.
And, frankly, The Reg finds it difficult to believe that the Iconia Tab A500 or its bretheren are going to juice the company's fortunes anytime soon. ®
COMMENTS
Hm...
I don't see the evidence for the iPad causing this, at least in the article (haven't read the report). I'm sure at least a small part of netbook sales would get stolen by tablets, I just don't know if that part would be that big. Where is the evidence, for or against?
Why just Acer, anyway? Do they only make netbooks (no), or at least mostly netbooks? Does no one else make netbooks in high enough numbers to be affected by the mighty iPad, as Acer supposedly was?
Where is the evidence that the netbook sales declined because most people who wanted one have already got one -- and, due to the manufacturers refusal to evolve the product, are not inclined to upgrade, since a new netbook and one from 2 years ago are about the same thing in performance and price?
Methinks this is just baiting for people to read the article.
This makes no sense; if anything, phones and laptops are a more likely cause
1. Where is the evidence that the Ipad is responsible? Have netbook numbers in total fallen? Also note that correlation is not causation. If it is due to other products (and not simply market saturation), I would suspect that the continued improvement in power of smartphones from Nokia and other companies is a far bigger factor. Phones sell way more than the Ipad or any tablet. Speaking from personal experience: although I do now have a netbook, I bought it much later than I would have normally, due to my Nokia phone being good enough for most times when I'm travelling. There's also the point that most people have a need for a phone (hence buying a netbook is an additional cost). With tablets, it's a choice of a tablet or netbook - why would the device with less features at a higher cost win?
ElReg!comments!Pierre makes a good point also about competition from ultra-portable laptops. What was so special about the first netbooks in 2007 was not just their size, but their low cost. At that time, you had to pay a premium to get a small laptop. Now you can get small low cost laptops much more powerful than netbooks (typically 11", versus 10" or less for netbooks - personally I went for the smaller netbook, but I can see that many people would find an 11" a better choice). Have laptop numbers fallen?
2. And why is being third place bad? When Apple reach third place in a market, we get a fanfare of articles about how wonderful they are.
3. Note how these companies are selling millions per quarter. But half a million of a brand new release of a product that's received loads of coverage in the media is impressive?
I agree with the comments. It's sad that even articles that have nothing to do with Apple, still have to have an obligtary mention. It's like product placement.
Giles Jones: I can take notes on a netbook. What's the point in spending more on a tablet, simply to turn it back into being like a netbook? And recording audio is much slower to skim through to find a particular part. Not to mention being useless for when the lecturer writes down material.
tommy060289: "The truth is, net books are crap, slow and underpowered"
And how powerful is the Ipad? When people say netbooks are underpowered and slow, they're being compared to full laptop PCs. I wasn't aware tablets were any better - worse, in fact.
"On the other hand, I have a decent laptop for serious work and I take my iPad round with me at university as it is much easier to carry round then any laptop"
Oh I see - so your wonderful Ipad isn't up to the job, and you need a laptop for any serious work. So why not have a netbook and a laptop?
Sure, there are some people who will a niche for things smaller than a netbook - but then the Android tablets are better here, as they are smaller (not to mention phones).
What if you're out and need something with more power, and all you have is your Ipad?
Acer and netbooks
As an owner of an original Acer Aspire One, here is my take on it; clueless users and Linux zealots don't mix.
Personally I liked Linpus but most users expected Windows. When they went to forums for help the usual reply was "First open a command line and hose that crappy Linpus and install My Favourite Linux Distro". They ran screaming for the door (or back to the shop) and said 'Windows or nothing'. Acer's Linpus support was pretty ordinary, which didn't help. This put Microsoft back in the game, and in the driving seat. Result, over-priced netbooks with low-res screens, Windows XP and slow as molasses, or wildly over-priced netbooks with medium res screens, Windows 7 and slow as molasses.
If Acer want me to update they need to give me the same form factor with Linpus, a higher res screen and better battery life. But that's just me...
Surely
If we are accepting that netbook sales are evaporating to the iPad, then the iPad figures need to be included in shipments, which should have put Apple in 5th place?
Gratuitous Apple fanservice
Acer went to 2nd place thanks to netbooks, that's probably right. They kinda co-invented the concept, and were almost alone in that market for quite a while. Now they're seeing some serious competition, and so sales dip. From what I can see in the real world, tablets are far from even threatening netbooks in what is their core market (IMHO): people who need a small, cheap portable computer with a decent keyboard. As far as I can tell, over 50% of students still use "netbooks", for example. The ones who don't, have proper laptops. Tablets? Let me check... no, no tablets (try taking class notes on a tablet...).
The one difference I can see, however, is that a year ago everyone had either an Asus or an Acer (with the odd McBook Air for the ones who had wealthy parents), and now the students who cruise our corridors carry "netbooks" (ie laptops under 12 inches) from over 10 different brands. Very few of them are proper netbook as I would define them, too (very small, lightweight laptop, preferably sporting flash storage instead of a HDD, running a streamlined system).
The netbook, proper, was killed by the downsizing of full-fledged laptops (and by the wintel marketting machine), not by tablets (actually "netbook" salesstarted to slump long before the iPad was even announced). Of course that's just how it is, not what is fashionable to write.