iPad slaps Acer, pumps Dell's number two PC maker rank
'Thanks, Steve – we owe you one'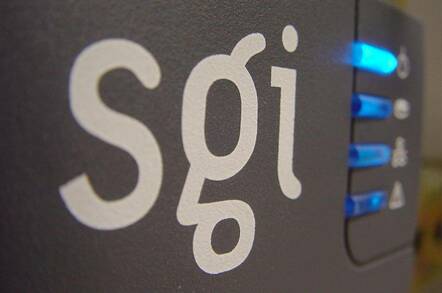 Dell has strengthed its position as the number-two PC seller in the world, thanks to Apple's iPad kicking Acer in a place it'd have preferred not to have been kicked.
And no, we're not talking about that place, we're talking about netbook numbers.
"Acer's decline was spurred by rising competition for its consumer-focused netbook and notebook computers from the iPad and other media tablets," say the analysts at IHS iSuppli in a report released on Thursday.

The fourth quarter of last year was one that Acer might prefer to forget (click to enlarge)
Although HP remains el numero uno – as it has for seemingly aeons – Dell snuggles behind HP's 19.2 per cent Q4 2010 market share with a healthy 12.1 per cent market share of its own.
Dell's growing lead over number-three Acer isn't due to any sales surge – Acer's sales are plunging. Dell's PC sales were essentially flat between the third and fourth quarter of 2010. Acer's sank a stomach-clamping 12.9 per cent.
Last year at this time, it was hard to see how Dell could regain the number two position that it had lost to Acer. In that far-away time, netbook sales were solid, and the iPad was but a twinkle in Steve Jobs' eye.
"A little more than one year after a prolonged decline in shipments caused Dell to lose its customary second-place ranking to rival Acer, Dell now seems to have regained a firm hold on the No. 2 rank," said Matthew Wilkins, an analyst at IHS, which acquired iSuppli last November.
"Acer in the third quarter of 2009 had surged to the No. 2 spot on the strength of its strong sales of netbook PCs to consumers and a generally buoyant consumer market," Wilkins continued. "However, with momentum for consumer PCs waning and in light of growing competition from media tablets, Acer's gains have been reversed."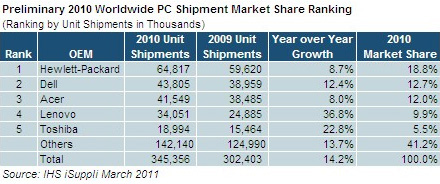 Hmm... it seems that the smart money might be on that PC megacorp named "Others"
Acer might take some consolation from its overall 2010 numbers – but it'd be a false hope. Although IHS iSuppli's numbers show Acer trailing Dell by a mere 0.7 per cent market share for the year as a whole, the trend lines aren't pointing in the right direction for the Taiwanese PC giant.
And, frankly, The Reg finds it difficult to believe that the Iconia Tab A500 or its bretheren are going to juice the company's fortunes anytime soon. ®
Sponsored: Minds Mastering Machines - Call for papers now open