Dragon Age II
Hit and myth
Stayin' alive
Keeping your companions alive is key in battles, if they fall they remain unconscious until the battle's end (at which point they'll miraculously wake up). Their behaviour can be preordained however, thanks to the comprehensive character tactics panel in which attitude in battle (passive, aggressive, ranged, etc.) can be selected – something to keep you tacticians busy for quite a while.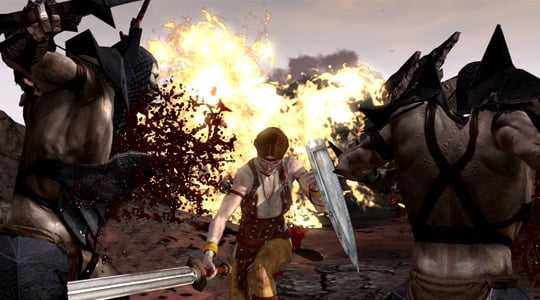 You have a point
Levelling up when you've hit upon the requisite experience points is a similarly deep thought process, particularly when it comes to assigning abilities to your most cherished characters. A new level generally yields three attributes points and a single ability point. Attributes (constitution, strength, dexterity, etc.) directly affect your character's stats, also governing usable armour and weapons – there's nothing like finally getting your hands on that next sword of sharpness.
The ability points allow you to unlock a new move, spell or state from a huge number of options. For example, the warrior class has nine ability groups to pick from, each with a minimum of eleven sub-abilities. Choosing skills which complement the rest of your posse is significant; a balance of attacking and healing options of paramount importance. And will you specialise on one ability or diversify? A question likely to rage on forums the world over.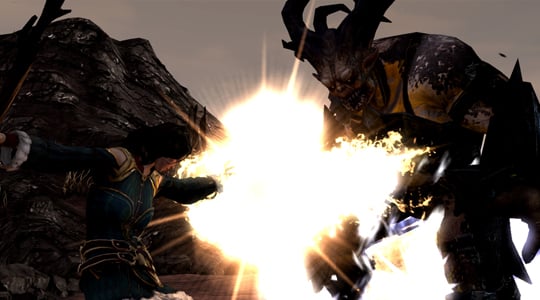 Got a light?
Verdict
Dragon Age 2 does exactly what you'd expect it to, albeit without particularly furthering the genre. It's a fantastically detailed RPG with literally hundreds of quests, side-quests, non-story quests and so on to choose from, but there's an underlying feeling that you've seen it all before. Don't get me wrong, RPG fans will lap this up and it is a great game, it's just a shame that some clichéd scripting, over-reliance on button mashing during combat and a general lack of sparkle detract from the whole. ®
More Games Reviews

Fight Night
Champion
Killzone 3
Bulletstorm
Mindjack
Dead
Space 2
Sponsored: Minds Mastering Machines - Call for papers now open

Dragon Age II
BioWare, the kings of the RPG, are at it again as once more we delve into a world of swords, dragons and 'ye olde' English. Available on PS3 (tested), Xbox 360 and PC.