Endeavour crawls to Kennedy launch pad
Leisurely prelude to ISS mission to plonk down antimatter-detection kit
Space shuttle Endeavour this morning complete its leisurely 3.4-mile journey from Kennedy Space Center's Vehicle Assembly Building to Launch Pad 39A, ahead of its scheduled STS-134 mission launch on 19 April.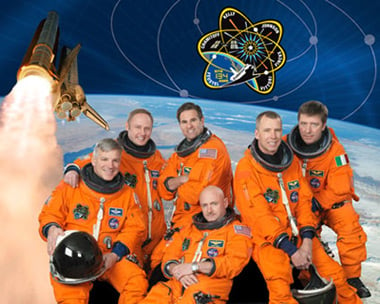 NASA has provided the traditional cheery photo of the Endeavour crew, which shows commander Mark Kelly at bottom centre and, clockwise, pilot Gregory H. Johnson, and mission specialists Michael Fincke, Greg Chamitoff, Andrew Feustel and the European Space Agency's Roberto Vittori.
During the 14-day mission, Endeavour will deliver "the Alpha Magnetic Spectrometer (AMS) and spare parts including two S-band communications antennas, a high-pressure gas tank, additional spare parts for Dextre and micrometeoroid debris shields".
The AMS is described as "a state-of-the-art particle physics detector" which "will use the unique environment of space to advance knowledge of the universe and lead to the understanding of the universe's origin by searching for antimatter, dark matter and measuring cosmic rays".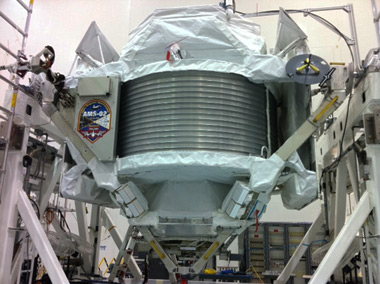 Specifically, the AMS (pictured) is tasked with sniffing out antihelium nuclei, something which "would provide evidence for the existence of antimatter".
During its nominal mission of three years, it will monitor cosmic radiation to provide vital data on just how to protect astronauts on long interplanetary trips.
The device may answer the question of whether the theoretical strangelet particle actually exists. NASA describes the "extraordinary" blend of u, d and s quarks as potentially "a totally new form of matter".
It'll also be keeping an eye out for the "neutralino" - another theoretical particle which is among the candidates for dark matter.
NASA enthuses that the spectrometer will run "24 hours a day, 7 days a week, and 365 days a year" capturing data at a rate "equivalent to filling a 1 Gigabyte USB memory stick every second!" ®
Sponsored: Minds Mastering Machines - Call for papers now open