Apple patent foresees ultra-svelte iDevices
Skinnier than a 2.5mm phone plug
Apple has filed a patent application for an audio port that accommodates a jack which is larger in diameter than the thickness of the device into which it's plugged.
Published Thursday by the US Patent and Trademark Office, the filing, entitled "Low Profile Plug Receptacle", is a resurrected version of an essentially identical application filed in September 2008 and published in March 2010.
The filing describes three general ways that such a socket could be incorporated into a device that's thinner than a standard 3.5mm headphone jack or 2.5mm headset jack:
The simplest of the three would merely have the socket be less than fully circular, with a slot allowing some of the jack to protrude above the device's surface.
A second "embodiment", in patentese, would cover that slot with a "semi-flexible material" that would extend and conform to the plug as it is inserted, securely hodling it in place.
A third, mechanical, method would employ a "hinged housing" – essentially two wee doors – that would swing open to allow room for the plug's protruding width.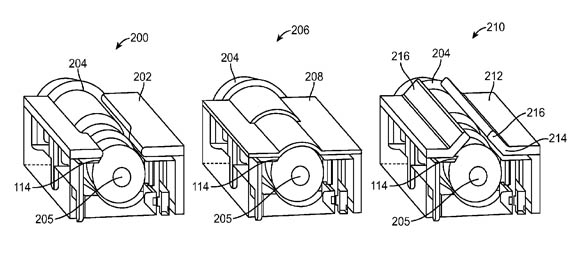 A simple slot (left), a stretchable covering (center) and hinged double doors (right)
All three methods are designed to allow Apple to continue to use industry-standard jacks, but to shrink its mobile devices to thicknesses – thinnesses, actually – well below even the most anorexic of today's offerings.
The iPod shuffle and iPod nano, for example, are both just under 9mm thick – but that measurement includes their clamp-it-on-your-shirt clips. Not including the clip, both are a bit over 5mm thick. The clipless iPod touch, by contrast, is 7.2mm thick, and the iPod classic – yes, it still exists – is a veritable Konishiki at 10.5mm.
Those thicknesses – and the iPad 2's slim 8.8mm – allow for plenty of room to accomodate a 3.5mm or 2.5mm audio jack, even considering the other items with which they need to share the cozy confines of an iDevice' innards.
But that may not – will not? – always be the case as Apple's offerings continue to get more svelte. The original iPod, for example, was 19.9mm thick – nearly 3mm heftier than the fat back end of the current MacBook Air. If thin is in, thinner is increasingly inner.
Apple apparently forsees a day when an audio jack may be a limiting factor in the ongoing Jenny Craig-ing of their kit. And when that day arrives, it plans to have its patent ducks in a row. ®
COMMENTS
I thought patents were supposed to be "not obvious"?
I came up with the idea of the split design a while ago and thought of the others as I read the title.
If Apple are awarded the patent for this then whoever awarded it needs shooting.
"Like iPhone/iPlayer connectors." This is where Apple makes money by ...
using non-industry standard connectors and why they chase down all those nasty little Chinese companies who knock off connectors, with cables, for less than 50 cents each.
At least we can buy them in the Far East - the Home Security gang stop them from being imported to the U.S.A.
Obvious?
If it's so "fucking obvious" where are all the examples of it?
I don't know why they don't just use a tiny magsafe plug with a standard 3.5 jack on it. Job done.
Just put the jack housing in the bumper
Once you put your iDevice in its mandatory bumper it loses most of its visual aesthetic appeal and all of its thinness anyway, so why bother putting the housing in the device at all. Then you can make an even thinner device that demos even better, but because the bumper keeps the phone the same size anyway you can carry on using a normal jack housing.
Meh
They all look crap, simply leave the socket as it is and design around it, making it look like jet fighter exhaust etc. There is nothing to patent there.