Review: BT Vision
BT Vision boasts a 14-day EPG and its on-screen menus are clear and simple. It has flexible ways to find what's new or popular and to search for content by name, genre and keywords, though it's not as intelligent and customisable as TiVo.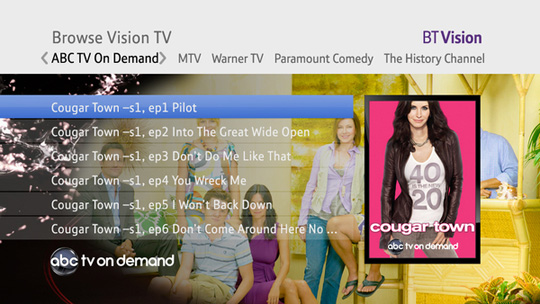 Still work in progress, with a new BT Vision box promising more content
The on-demand playback is pretty much immediate, while HD has just a short delay, depending on broadband performance. By April the full, proper version of the BBC iPlayer will have appeared on all BT Vision boxes.
There is not a huge selection of channels at present, but the VoD offerings are wide ranging at about 3,500 programmes, including series such as 30 Rock and Ugly Betty bundled into boxed sets.
BT claims that the basic Freeview channels plus Sky Sports accounts for three quarters of what people normally watch – and its Infinity based packages will expand this. Parents will be glad that the kids' VoD content has no adverts, while shorter programmes can sometimes be bundled into convenient continuous blocks.
The picture quality is inevitably more compressed than, for example, Virgin's on-demand programmes and films. Even an "HD" version of Toy Story 3 showed some blocky break-up.
BT Vision is a cost effective alternative to Sky's pay-TV if you are not in a Virgin Media area. However, you may be better off waiting for the next-gen Vision box as it will add personalisation features and receive content beyond the existing BT ecosystem, including Freeview HD and other on-demand material.
Reg Rating 70%
Initial Price £30 or £120
Monthly subscriptions From £7
More Info BT Vision
COMMENTS
About as close as you can get..
would most likely be the PS3.
Blu-Ray
Freeview Inc PVR (PlayTV)
Upscaled DVD
iPlayer
4OD
ITV Player
Lovefilm
MUBI
PSN Video Store
SkyPlayer(soon)
YoutubeXL
Not bad for 1 box that's £180.
"unfrorgiveably unusably awful crap boxes from Virgin"??
Think you're a bit out of date - the Samsung V+HD box I've got is works fine and I personally think is better than Sky's offering.. I am considering upgrading to the Tivo though as it has more storage space and more than a weeks tv guide (the only 2 things I find a pain sometimes)..
For an answer to your question
RTFA
I used to have Virgin...
But then I had 4 outages, lasting 5-8 days each, in the space of one month, I was left without television from 20th December until 6th January, no refund, even after a letter to the boss, so I cancelled my subscription, and have been telly-less for two years, and I love it. Okay, I have reasonable broadband, so there is iPlayer and other services, but I
Like everything else with Virgin, when it works it's very very good, but when it's bad, it's horrid.
@Gansta
"The UI is maybe a bit slow ( but not as much as you say)"
Yes, yes it is as slow as I say. I know because I spent a frustrating time trying to set up recording for WSB by searching for "motorsport" under the "TV Channels"
"You can't watch LiveTV while searching OnDemand (Probably a marketing decision rather than a technical one)"
Yes, I know this and I really don't care why it is that way; it's a PITA and affects my experience as a user.
"You can't hide Unsubscribed channels - So what? If you're on the V+ package you probably have XL anyway."
I can't view them and I don't want to have them cluttering up the guide, that's why.
"Why would you need to use Ethernet and USB? The software has no function for that - the recordings are encrypted for a reason."
You assumed I want to lift media off the V+ box and you assume wrong. I want to view media I already have on my network. The V+ box is running on a Linux distro, including "smbfs" would have been a snap.
"Have you heard of a Wireless Router? Never trust bundled routers."
I'll agree on that, I'm using the bundled one at the moment but considering buying another one and chucking DD-WRT on it.
Most of the above will be moot once I get around to setting up Myth with Freesat. The V+ box will either be returned or can just gather dust.