BT vs Sky vs Virgin
Top pay-telly providers go head to head
Group Test When the final old-style analogue broadcasts cease in 2012 the default way of receiving TV will be Freeview. For years there have been alternatives for those willing to pay more, and you can end up with as many channels as Lady Gaga has costumes. Like those outfits, you might think: is it necessary to have so many?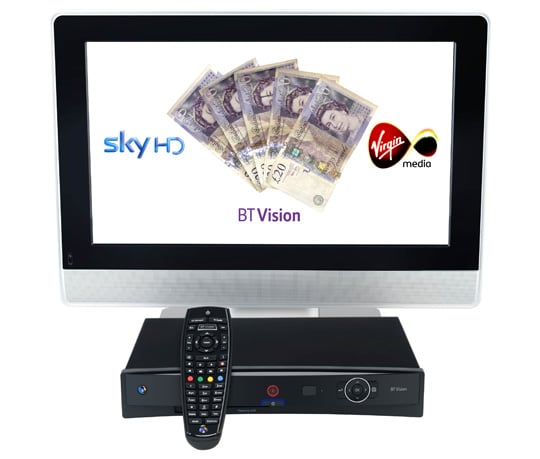 That choice has now expanded into catch-up services from the main broadcasters and various video on demand (VoD) options, meaning that you can select from a big pool of programmes without having to pre-record them. Given these options, what else can you expect to get from Sky, Virgin Media and BT Vision, the big three pay-TV providers? This feature kicks off by highlighting the differences in the deals and the equipment provided. Later, there's a comparative review of all three to see how they perform to keep you in the picture.
Reach For The Sky
Sky's satellite service is nationwide, as long as there are no obstacles blocking line of sight to the dish. Flat dwellers can sometimes arrange communal instals. Planning permission is not needed for mini-dishes, while good installers can suggest discreet dish designs or less obvious places to put them.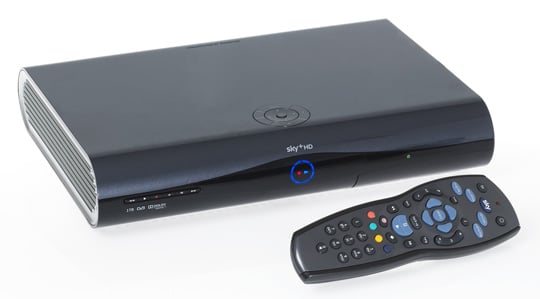 As with all providers, prices can change and there are often special offers. As of March 2011, subscriptions start from £19.50 a month, rising to £52 for all packages, excluding the optional £10.25 monthly HD fee. As more channels go HD, I can imagine this being waived for some or all subscribers, like the initial Sky+ service charge that was phased out in 2007.
Main packages are themed into Variety, Knowledge, Style and Culture, News and Events, Children's and Music, plus premium movies and sports. In total there are more than 500 TV and around 80 radio channels. A capped broadband and phone package is included free.
About 240 of the TV channels are available for no charge, including HD from the BBC, ITV and Channel 4. These are generally what Freesat viewers also get. The number of Sky's HD channels now tops 50, and there's a dedicated 3D channel.
The current Sky+HD box has 250GB for recording and is free to new or upgrading customers on certain subscription levels. A model with a 1TB hard drive costs £249, though if you're technically confident, DIY upgrades to previous Sky+ drives are possible. A non-recording high-def satellite receiver is planned that can be put into second rooms and networked to Sky+HD as a slave unit.
Sky's choice of selected programmes or films are optionally 'pushed' onto a reserved part of the Sky+ disk under the Anytime setting, while the new video-on-demand download service Anytime+ runs on Sky+HD boxes from broadband. This is a bonus feature for Sky broadband users on the £7.50 per month unlimited tariff and carries a reasonable selection of old and recent Sky TV, so you can revisit classic episodes of the The Sopranos, 24 and suchlike. Around 600 films are available to movie subscribers.
The Sky Player online VoD and live channel streaming are available for PCs, Macs and the Xbox 360 (for Gold Live subscribers). Sky has Mobile TV apps plus a version on the Fetch TV box and, soon, Humax's TV Portal.
Sky Anywhere, due later in 2011, is a cloud based approach for accessing content across devices inside or outside homes, combining Sky Player with Mobile TV.
COMMENTS
About as close as you can get..
would most likely be the PS3.
Blu-Ray
Freeview Inc PVR (PlayTV)
Upscaled DVD
iPlayer
4OD
ITV Player
Lovefilm
MUBI
PSN Video Store
SkyPlayer(soon)
YoutubeXL
Not bad for 1 box that's £180.
"unfrorgiveably unusably awful crap boxes from Virgin"??
Think you're a bit out of date - the Samsung V+HD box I've got is works fine and I personally think is better than Sky's offering.. I am considering upgrading to the Tivo though as it has more storage space and more than a weeks tv guide (the only 2 things I find a pain sometimes)..
For an answer to your question
RTFA
I used to have Virgin...
But then I had 4 outages, lasting 5-8 days each, in the space of one month, I was left without television from 20th December until 6th January, no refund, even after a letter to the boss, so I cancelled my subscription, and have been telly-less for two years, and I love it. Okay, I have reasonable broadband, so there is iPlayer and other services, but I
Like everything else with Virgin, when it works it's very very good, but when it's bad, it's horrid.
@Gansta
"The UI is maybe a bit slow ( but not as much as you say)"
Yes, yes it is as slow as I say. I know because I spent a frustrating time trying to set up recording for WSB by searching for "motorsport" under the "TV Channels"
"You can't watch LiveTV while searching OnDemand (Probably a marketing decision rather than a technical one)"
Yes, I know this and I really don't care why it is that way; it's a PITA and affects my experience as a user.
"You can't hide Unsubscribed channels - So what? If you're on the V+ package you probably have XL anyway."
I can't view them and I don't want to have them cluttering up the guide, that's why.
"Why would you need to use Ethernet and USB? The software has no function for that - the recordings are encrypted for a reason."
You assumed I want to lift media off the V+ box and you assume wrong. I want to view media I already have on my network. The V+ box is running on a Linux distro, including "smbfs" would have been a snap.
"Have you heard of a Wireless Router? Never trust bundled routers."
I'll agree on that, I'm using the bundled one at the moment but considering buying another one and chucking DD-WRT on it.
Most of the above will be moot once I get around to setting up Myth with Freesat. The V+ box will either be returned or can just gather dust.