Tearful NASA salutes space shuttle Discovery
Journey's end for venerable spacecraft
Rendezvous at Mir
A year later, Vladimar G Titov became the second cosmonaut to enjoy US hospitality, when he joined the crew of STS-63 for the first space shuttle rendezvous with the Mir Space Station.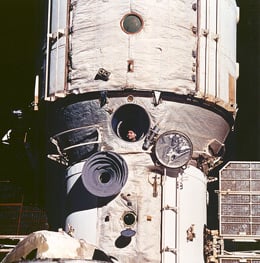 Pilot Eileen Collins – the first woman to take the controls of a shuttle – nudged Discovery to within 37 feet of Mir, at which point commander James D Wetherbee declared: "As we are bringing our spaceships closer together, we are bringing our nations closer together. The next time we approach, we will shake your hand and together we will lead our world into the next millenium."
It was Atlantis which first shook hands with Mir when it docked in June 1995, but Discovery made the final shuttle visit to Russia's orbiting outpost during its June 1998 STS-91 mission.
Eileen Collins went on to become the first female shuttle commander on Columbia's STS-93 mission, during which she oversaw the deployment of the Chandra X-Ray Observatory.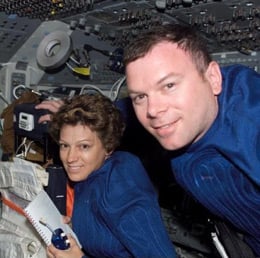 She was back on board Discovery (see pic, with pilot James Kelly) as commander of the shuttle's second Return to Flight launch – STS-114 to the International Space Station – after the loss of Columbia in 2003.
Discovery travelled to the ISS 13 times. It was the first shuttle to dock there in 1999 during STS-96, and subsequently broke further new ground in October 2007 when STS-120 commander Pam Melroy and ISS commander Peggy Whitson became the first women of that rank to be aloft simultaeously.
In May 2008, Discovery returned to deliver the Pressurized Module of Japan's Kibo laboratory, and subsequently carried trusses and solar arrays, and the Leonardo multipurpose module.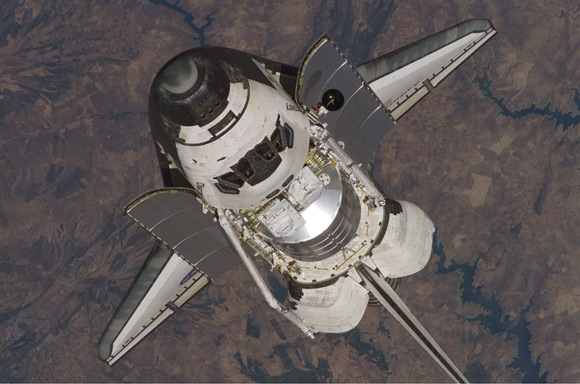 The spacecraft's final mission was to return the converted Leonardo – now dubbed the Permanent Multipurpose Module and mated with the ISS's Unity node.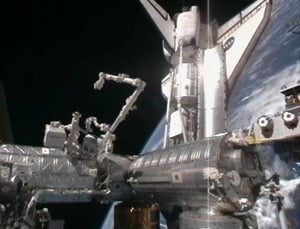 Before Discovery closed its hatch on the ISS for the last time, station commander Scott Kelly said: "It was a very successful time onboard. We enjoyed having you as guests, we're going to miss you, and we're going to miss space shuttle Discovery. Discovery been a great ship and has really supported ISS more than any other shuttle and we wish her fair winds and following seas. Thank you."
The next morning, the shuttle's crew were treated to a wake-up message from William Shatner, who declared to the backing of the Star Trek theme: "Space, the final frontier. These have been the voyages of the Space Shuttle Discovery. Her 30-year mission: To seek out new science. To build new outposts. To bring nations together on the final frontier. To boldly go, and do, what no spacecraft has done before."
Sponsored: Minds Mastering Machines - Call for papers now open