Building Windows 7 skills - will we need another 10 years?
The training challenge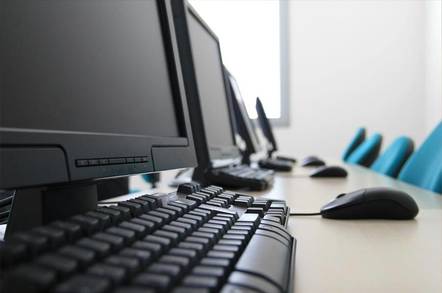 Windows 7 Ten years of Windows XP means that the whole world knows how to use it, from administrators to users. How much training does it take to migrate to Windows 7?
The answer is that the training burden falls more on administrators than on end users. One area where Microsoft has a good track record is in application compatibility across different versions of Windows; and in Windows 7 the company not only provides compatibility features within the operating system, but also offers XP Mode or for enterprises, Med-V (Enterprise Desktop Virtualization), so that applications that only work with Windows XP will continue to run.
This means that once the admins have figured out how to keep applications running, the users can continue with the same applications they used before.
Windows 7 does introduce user interface changes, such as the new taskbar where users can pin and launch applications, but in general the new features are discoverable and unlikely to trip up many users.
There are a few areas where Windows 7 is challenging. Microsoft revised the notification area, normally at the bottom right of the screen, so that application icons are hidden by default. This was part of its effort to make Windows less intrusive. Unfortunately this means that user interface elements like the Safely Remove Hardware icon are hidden. Disabling this feature through group policy is worth considering.
Another feature of Windows 7, called Libraries, is useful but can be perplexing. Libraries combine several actual directories into one virtual directory, usually focused on a particular document type such as pictures. That said, most users can do their work without having to learn this immediately.
The new Control Panel with its default Category view and many more applets than in XP takes time to get used to; note the search box which is often the quickest route to what you are looking for.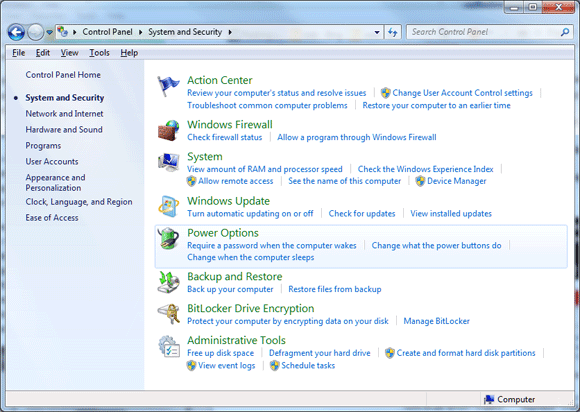 Perhaps the most awkward feature for both users and administrators is User Account Control (UAC). This is the outcome of work Microsoft did in Windows Vista in trying to fix two long-standing Windows weaknesses: the intermingling of applications, system files, and user data, and the tendency of users to run with local administrative rights. UAC addresses the first with a feature called the Virtual Store, which lets badly-behaved applications appear to write to system folders such as Program Files, while actually writing the data to a location in the user area. Such data can be hard to find.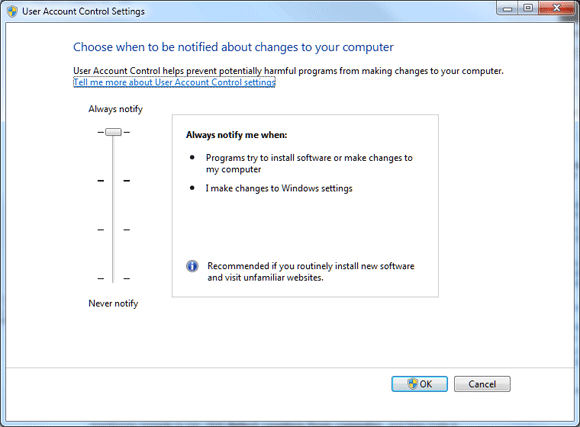 The second issue is covered by a split security token, which by default means that even local administrators run with reduced system privileges. When the user needs a higher level of access, for example for application installation or for changing critical settings, UAC raises a confirming dialog. This is less of an issue for enterprises that already run with locked-down desktops; but UAC and the virtual store are intricate features where training is important.
On the administrative side there is a lot to learn. Application compatibility is one key area. Windows 7 has many compatibility features, including UAC, compatibility settings, XP emulation, and for enterprise users application virtualisation. It will take training to know which method to use, and which applications are beyond hope and should be upgraded or replaced.
Microsoft's tools for Windows 7 administration are better than those for Windows XP, but many techniques are different. Key areas include changes to group policy, which lets administrators customise and lock down Windows 7 desktops centrally, and the new Microsoft Deployment Toolkit including the Windows Deployment Services, the Windows Automated Installation Kit and the User State Migration Tool. Backup and restore is different than in Windows XP, being image-based and designed to work with backup drives or Microsoft's Data Protection Server rather than with tape, though third-party backup systems are also available.
There are also significant new administrative features in Windows 7 such as Direct Access, which enables remote access to file shares without a VPN, and Bitlocker file encryption. Encryption is not to be taken lightly: get it wrong, and users can lose data.
Microsoft's Desktop Optimization Pack, available as part of Microsoft's Software Assurance subscription, includes several key management features, covering application virtualization and XP desktop virtualisation, advanced group policy management, desktop error monitoring, and a diagnostics and recovery toolset. These are complex tools but worth learning.
Help desk operators should learn not only about UAC, but also the new troubleshooting tools in Windows 7, such as the reliability monitor, the performance monitor, the revamped event viewer, and the new remote assistance features.
Training for software developers is another facet of Windows 7 migration. Applications need to follow Microsoft's guidelines to work properly on the operating system, and the Windows API has been expanded to cover the new features. Although some of this is not relevant until XP compatibility can be dropped, there are small but significant ways in which applications can work better on Windows 7 without losing compatibility with XP.
Windows 7 is still Windows, most applications still run, and it is familiar territory for long-term users of XP or Windows Vista. There is still a lot that is new, particularly on the administrative site, and training forms a key part of any migration strategy. ®
Sponsored: Minds Mastering Machines - Call for papers now open