VMware lets Apple fondleslabs tickle Windows VDI
You know you want it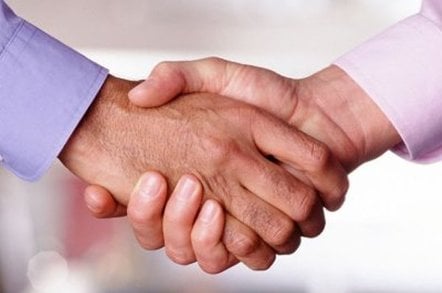 Hot on the heels of a new 4.6 release of its View virtual desktop infrastructure (VDI), launched last week, VMware is allowing a new client to reach back across the internet or internal corporate networks to use server-based Windows desktops: Apple's iPad and impending iPad 2 fondleslabs.
Like the Windows, Linux, MacOS, and thin-client end-user software for the View VDI stack, the new View Client for iPad is available for free.
The View Client that VMware is shipping today does exactly what the prior clients do for Linux, Windows, or MacOS machines, using the PC over IP protocol (PCoIP) to link back into the Windows XP, Windows Vista, or Windows 7 image that is running on a virtual partition running on a server. The PCoIP stack has lots of optimizations and data-compression techniques to make the local user experience on a virtual PC closer to that of a native PC.
In the case of the iPad client launched today, VMware View now has to jump a larger gap than just between two devices on a network. A Windows, Linux, or Mac OS X PC has a keyboard and a mouse, and so does a thin client running Teradici's PCoIP protocol. But an iPad or iPad2 has a touchscreen, so the concept of a keyboard and a mouse has to be done virtually, on the display.
In this case, the View client translates touchscreen movements on the iPad into mouse movements in a virtualized Windows instance sitting back in the data center, like so: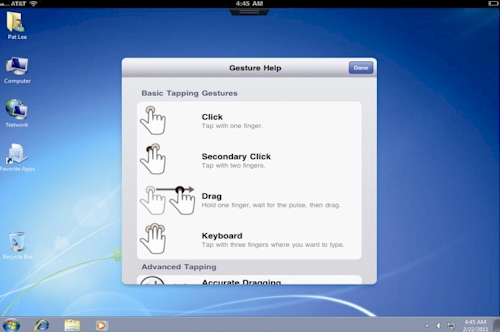 And if you want to get something even closer to a laptop experience, there is a virtual scratch pad: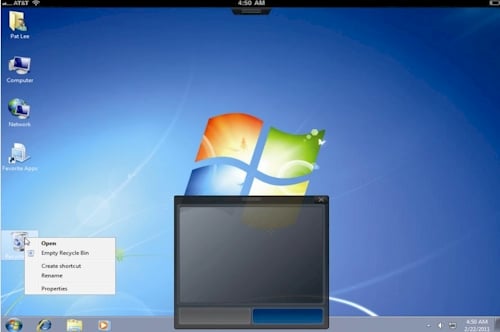 If you want to type in Word or Notepad, the software is smart enough to pop up the iPad soft keyboard, or look to see if you have a real keyboard plugged into your iPad via a Bluetooth link: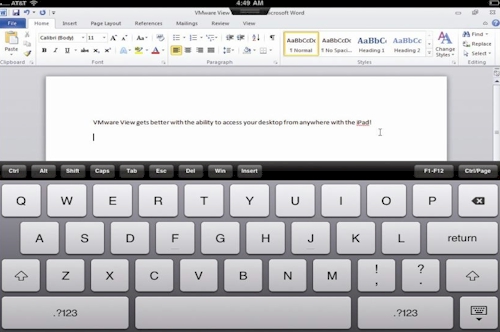 You can get it on Apple's App Store here. Because the original iPad does not have a video-out port and the new iPad 2, which does as an option, is not available until March 11, Pat Lee, director of end-user computing at VMware, walked El Reg through a demo of the View Client for iPad running on an iOS simulator provided by Apple. You can see a demo video of the software here, if you want to see the canned version.
The View client for iPad supports either iOS 4.2 for the iPad and the upcoming iOS 4.3, which will be sported on the iPad 2 starting at 5pm in your local time zone on March 11. You can get the client software ahead of the device, ironically.
If you're thinking that someday you will be able to get a View client for your iPhone, Android, or Windows smartphone, don't hold your breath.
"We think the tablet is the right mobile device for a full desktop experience," Lee tells El Reg. "The iPad is the first mobile client release for us, and we are excited to get it out there. As we look forward, we will watch which other tablets take on a lot of customers."
Lee conceded that Google's Honeycomb variant of Android is the next obvious choice in terms of tablet operating systems to support, with Motorola's Xoom tablet being the first one that VMware is keeping its eye on. Lee says a slew of Honeycomb tablets are slated (har har) for delivery late in the first half and early in the second half of this year, and he will be taking a look at all of them and watching their market stats.
While VMware View, which costs from $150 to $250 per seat depending on features, supports many end-user devices, the only thing it can virtualize is a Windows instance. It would be interesting to see a View configuration that allowed iPad and iPad 2 users to access virtualized Mac OS X images, but that would of course require Apple to have a proper server, which it no longer does.
One last thing: Not owning a Kindle or an iPad, it was a revelation to me when Lee said that iPads do not have to be taken out of your bags when you check in through security at the airport, like netbooks and notebooks have to be. Anyone carrying a full desktop PC is obviously suspect, but apparently those carrying tablets are too cool for gray plastic bins. ®
Sponsored: Minds Mastering Machines - Call for papers now open