Org charts on steroids
Who's the boss of you?
Workshop Quick, grab the org chart. Today's org chart can show much more than just who looks after the paperclips; it can also indicate departmental structure, vacancies, reporting lines, accountabilities, even job performance.
Sounds handy? But where's the org chart for your business then?
Languishing in the desk of the HR director perhaps? The problem with org charts is they get out-of-date quickly, and can put a lot of noses out of joint, or just waste everyone's time.
But there are signs that the org chart is getting a new lease of life through better diagramming tools and the wiki treatment.
Go to Cogmap and prepare to be converted. Cogmap is an org chart wiki. Spend half an hour nosing around other people's org charts and the comments from users, and you will be convinced that for all but MI5, shared org charts are a very good idea.
It's fairly common practice to use a diagramming tool to create and maintain org charts, and the new thing is to also link them to sources of HR or performance data for automatic updates to create dashboards that provide real business intelligence.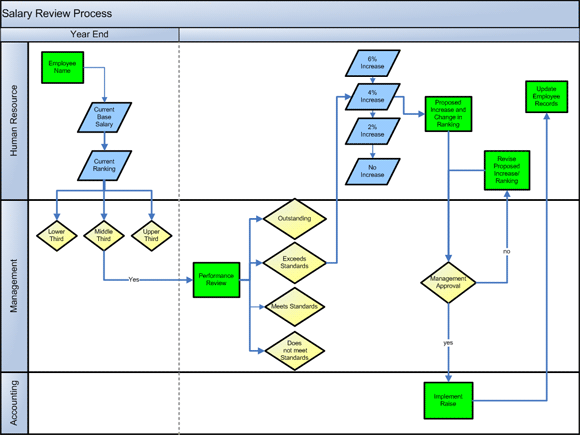 Microsoft Visio offers a range of templates for HR and Organisation charts. It also includes an add-in for importing Excel spreadsheet data, so that the chart can be created automatically or updated.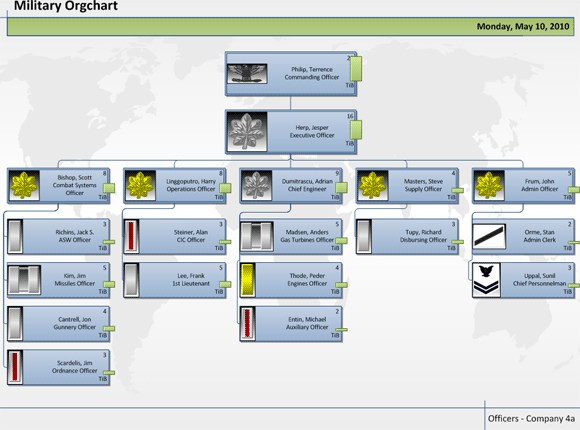 For example if a spreadsheet includes fields such as name, supervisor, title, department and phone number, Visio will create the org chart by using the Org chart wizard and linking to the Excel data. The wizard differentiates between data that defines the organisation and data that must be included in the boxes created. Then when given the name of the person at the top of the hierarchy it can automatically create the chart (as it knows who each person reports to).
Once the chart is created photos can be imported and subordinates of a particular employee can be hidden or revealed. Ad hoc changes can be made by dragging the main diagram chart into the main diagram page and adding employees or external suppliers at will.
But photo importing isn't a walk in the park. It recently featured in the Visio Guy blog forums. The advice from reader Nashwann was as follows:
"Insert an extra column and name its header as "ImageFile". Then you need to fill for each employee his picture filename (ex: Obama.jpg, Ali Said.jpg). Note the staff picture files should be in the same folder as your drawing.vsd file. Then you need to run the macro from John Goldsmith's blog..."
Well, you get the general idea.
Apart from OmniGraffle, perhaps the main competitor to Visio is Microsoft's own PowerPoint. Its data linking capability is more limited, but it does have a simple interface for colourful org charts that are quick to produce. The charts can also be given some style (gradient, beveled, striped etc). Colour-coding for subordinates can also easily be applied en masse, to colour-code departments and teams in one click.
In tools like Visio and OmniGraffle (for Apple Macs and recently as an iPad app too) you have to decide how much of an org chart to fit on one page, with PowerPoint it is more a matter of spacing the chart over a series of slides. Third party packages like EdrawSoft can also be used to create the chart which is then imported to PowerPoint.
Opinions vary on how well Visio is keeping up with user demands.
David Parker MD, BVisual, MVP (Visio), says "The existing add-in is good for automatically creating org charts from a variety of sources but I'm disappointed that it cannot be refreshed easily, nor can branches be sorted. It has been around since almost the beginning of Visio. In short, it needs a re-working with the latest capabilities that have been added to Visio."
Gareth Arnold, Visio Product Specialist, Microsoft says that data linking puts Visio into a different league: "Because the chart can be controlled by a data source I can look up other information, and it can become a central repository for all your data. I can also control the refresh rate of each feed, so that the org chart starts to give real-life information. That's the real power of Visio today."
Org charts can also be layered to present different data links at different levels.
Arnold again: "The point is you can pull in data from as many sources as you want and pretty soon the chart becomes a really good way of monitoring all manner of key performance indicators flagged up with colour coding."
Hard to achieve perhaps, but it's on the radar of HR specialists like Russell Connor, MD at Dynamic Link: "The org chart was forgotten for a while. Now you can create up-to-date charts that have great data linked to them. It needs an integrated approach linking enterprise systems with classification systems and graphics packages, and as I see it, this is some way off, but the direction of travel is clear."
So diagramming tools can be used to morph the humble org chart into a Star Trek-like dashboard capable of being read in an instant by even the thickest line manager?
That's got to be a rich source of brownie points for any IT buff on the way up then. ®
Sponsored: Minds Mastering Machines - Call for papers now open