Apple MacBook Pro 13in
Shiny, silver Sandy Bridge system
By the numbers
I ran both the ageing Xbench and Geekbench Mac OS X benchmark suites. Both clearly show the new processors' superiority over both the previous generation of Core i - in last year's 15in MBP - and the old Core 2 Duo, used in the current MacBook Air.
Geekbench 2 Results

Longer bars are better
Xbench's figures shouldn't be taken as an absolute measure - look instead at the relative values. So the 13in MBP's threading performance is close enough to that of the 15in MBP, but its memory performance leaps ahead thanks to the use of 1333MHz DDR 3 rather than the 1067MHz DDR 3 used in the previous generation of MacBook Pro.
There gain in disk performance is minimal. The Air's big score arises from its SSD.
Xbench 1.3 Results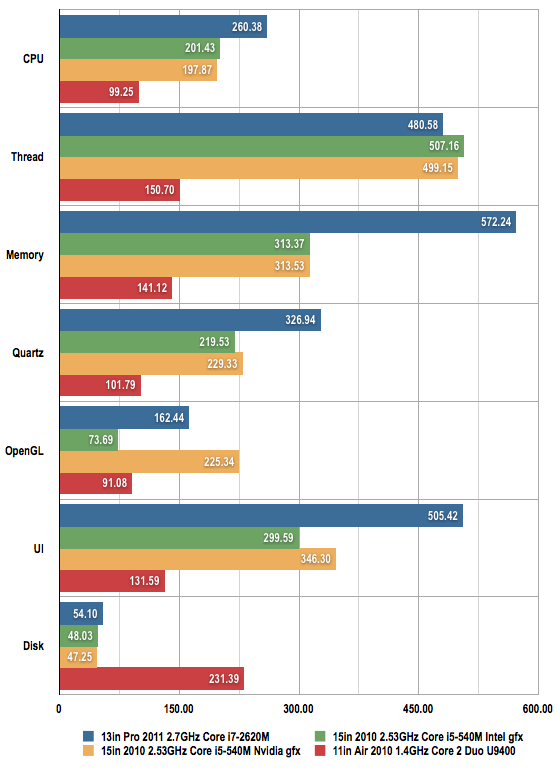 Longer bars are better
The previous 13in MBP used Nvidia's integrated graphics, but the Core i chips have their own GPU on board. The new 15in MBP also has a discrete graphics chip, now from AMD, but the 13in model is an Intel-only affair. The old Nvidia graphics, the GeForce 320M, is also used in the current MacBook Air, and you can see from the graphics benchmarks what a boost the new one delivers.
Sponsored: Minds Mastering Machines - Call for papers now open