Dixons Advent Vega
Geek's delight, consumer's fright
Netbook thrashed
It's a full-size USB port on the tablet, as is the HDMI port. The two speakers built into the back panel are not large, and don't deliver a particularly beefy sound, but most folk, I suspect, will use the 3.5mm earphone jack anyway.
There's no skimping on the processor: an Nvidia Tegra 2, which keeps the UI moving smoothly and has the oomph to take 1080p H.264 video playback in its stride. No worries there - all my test videos - H.264, AVI, MKV; SD, 720p and 1080p played just fine. Better than a netbook, for sure.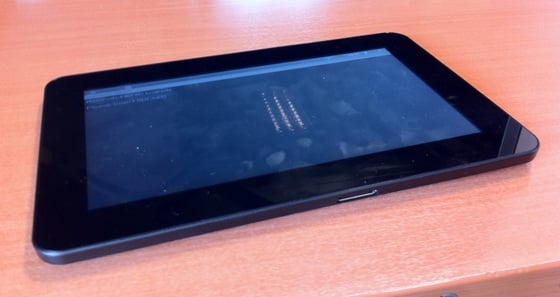 The plastic screen shield will require regular polishing to avoid a whole mess of fingerprints
Out of the box, the Vega's brightness was set to around 30 per cent. That left the glossy screen seem very reflective, and upping the brightness to the top certainly helps. Running Reg Hardware's netbook-centric video loop test, I got an impressive 6 hours 20 minutes out of the Vega - rather better than most netbooks, even those with bulbous external batteries.
But for 250 quid, I can forgive it that - and the other hardware shortcomings, such as 802.11g Wi-Fi not 802.11n, and the small-capacity SD card.
Rather than wait for the tablet-centric Android 3.0 Honeycomb, Dixons chose to equip the Vega with Android 2.2. Yes, it fills the tablet's larger display, and delivers the basics, but its smartphone origins soon make themselves felt in a sub-optimal user experience.
When you only have 600 pixels top to bottom, wasting a heap of them on a big, chunky status bar is just plain wrong. The icon dock at the bottom of the homescreen, used to present apps no matter what homescreen you've swiped to, is a neat, iPad-style touch, but it provides no feedback when you tap on an icon, not one of which can you change.
Video Playback Battery Life Test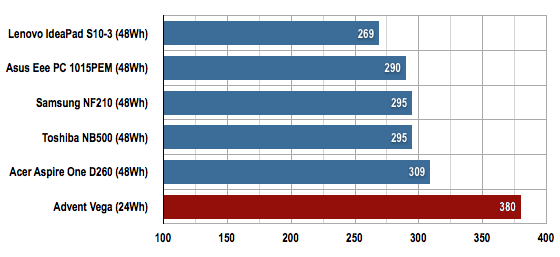 Battery life in Minutes
Longer bars are better
Netbook-thrashing performance: the Advent Vega outclasses netbooks with twice the battery capacity it has. In each case, the screen brightness was set to maximum.