Dixons Advent Vega
Geek's delight, consumer's fright
Oh-so-widescreen
Another reason for forcing you to use the Vega in landscape mode: the then vertical viewing angle is poor, something you really notice when holding the gadget in portrait mode. And, as it's basic LCD panel, the colour reproduction isn't top notch.
The Vega is plastic backed so it's lighter than the iPad, though rather thicker and less well moulded. The display is also faced with plastic, so it's not as smooth as the iPad's glass front. Though the Vega's capacitive touchscreen itself is very responsive. it just doesn't feel as pleasant to use.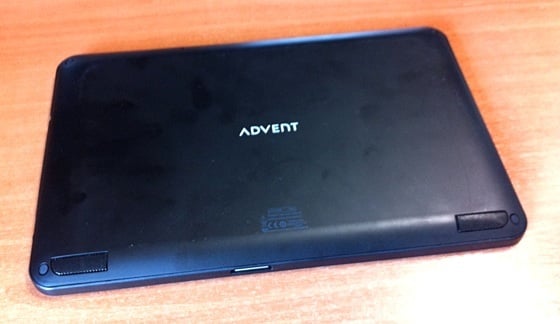 No easily swappable battery here - and the speaker grilles are right where you put your hands when holding the Vega in landscape mode
The screen also lacks the iPad's oil-repelling coating, which, while it may not be entirely fingerprint-proof, stops the screen getting anywhere near as grubby as the Vega's. Being plastic, the screen will need more care to avoid scratches
Both are signs of the spec squeezing Dixons has had to do to get the Vega's price down to an impressive £250. So too is the lack of on-board storage beyond a basic 512MB. Instead, the Vega uses Micro SD cards, a 4GB card being bundled in the box, along with a handy SD adaptor and a double-headed USB cable to connect the Vega, in mass-storage mode, to a computer.