Benchmark Results
PCMark 05
CPU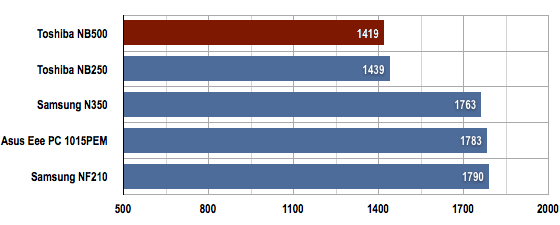 Memory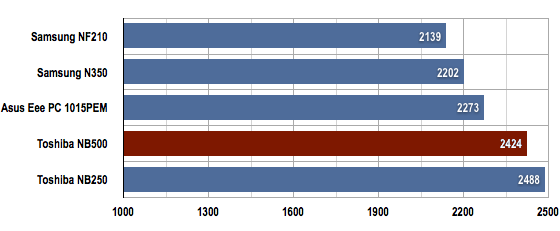 HDD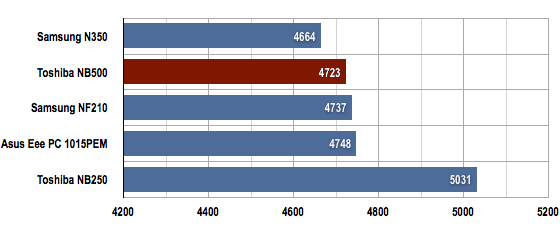 Longer bars are better
Video Playback Battery Life Results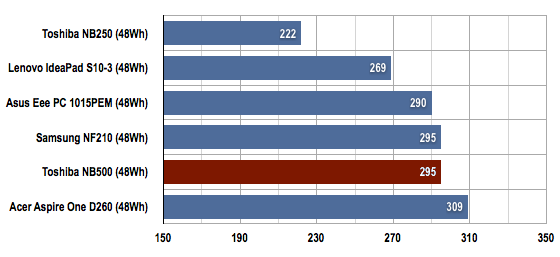 Time in Minutes
Longer bars are better
The Toshiba NB500's PCMark 05 scores fail to impress - even by the standards of the old NB250, let alone models based on the 1.5GHz Atom N550 chip. A decent Memory score doesn't show the impact of having too little Ram.
COMMENTS
Acer seems to do cheap better
This review validates my decision to buy my daughter an Acer Aspire One D255E. I got it on sale for $200 US with free shipping and while it can be a bit slow loading programs, the touchpad and keyboard are OK and it meets the computing demands of an eight year old for almost a third less than the Toshiba. Also I found out that I can easily bump the RAM to 2GB which may help the speed, as would tossing Win7 starter for Ubuntu.
Not sure about some things
"That said, I was particularly unimpressed with the NB500's 2.4GHz 802.11n Wi-Fi adaptor, which Windows states delivers a speed of just 72Mb/s, barely faster than 802.11g's 54Mb/s. 802.11n is capable of a much higher throughput, even allowing for Windows reporting the maximum possible speed rather than real-world throughput. The NB500 doesn't feel as quick as other 802.11n kit I've used, nor as able to cope with areas where a router's wireless signal is week."
Given the speed of the broadband behind the Wi-Fi, does it matter, beyond a certain point, how fast it connects?