Toshiba NB500 budget netbook
A true Small, Cheap Computer at last?
Review Few netbooks have been truly cheap - well, few of the decent ones, anyway - but now we're at the third generation of Intel's Atom processor family, an opportunity has arisen for netbook makers to offer less pricey models based on older chippery.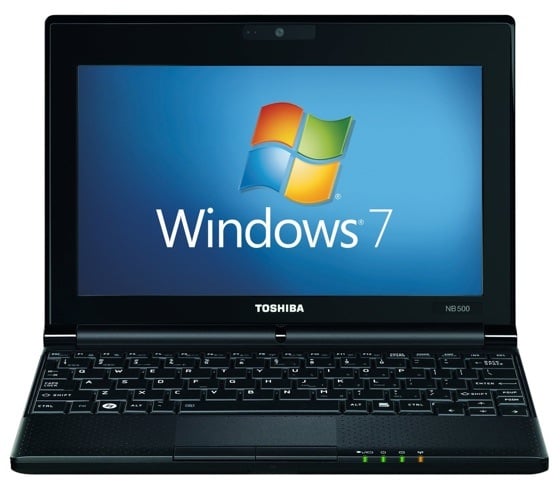 Toshiba's NB500: cheap but not awfully cheerful?
Toshiba's netbook range is topped by models - the NB520 and NB550 - sporting the latest Intel and AMD CPUs, respectively, but that hasn't stopped it punting a lesser line member, the NB500, based on an Atom of yesteryear.
Today, that means a 1.66GHz Atom N455. Released almost a year ago, the 45nm N455 is a two-core, four-thread part with a graphics core, the GMA 3150, built into the CPU module. It supports 800MHz DDR 2 memory, of which Toshiba has included a gigabyte in the NB500.
It's really not enough, not with all the utilities Toshiba pre-installs. Run more than an app or two, and Windows 7 Starter's Task Manager will show the amount of free physical memory plunging to zero. Not that you'll need to check, the feel of the system - windows that take seconds to show their own contents rather than that of windows underneath them - tells you this is a machine struggling to cope.
If this were my netbook, I would ruthlessly purge as many startup services and bundled apps as possible. And upgrade the Ram, though 2GB is your limit.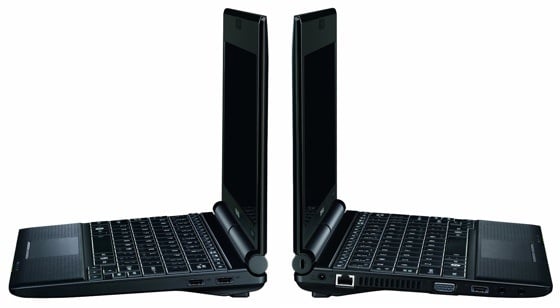 Standard netbook ports
To make matters worse, the NB500's fan, at least on the review sample, cuts in frequently and makes its presence felt, even in a fairly busy office. It's not exactly hairdryer loud, but you'll be well aware of its intrusive hum.
COMMENTS
Acer seems to do cheap better
This review validates my decision to buy my daughter an Acer Aspire One D255E. I got it on sale for $200 US with free shipping and while it can be a bit slow loading programs, the touchpad and keyboard are OK and it meets the computing demands of an eight year old for almost a third less than the Toshiba. Also I found out that I can easily bump the RAM to 2GB which may help the speed, as would tossing Win7 starter for Ubuntu.
Not sure about some things
"That said, I was particularly unimpressed with the NB500's 2.4GHz 802.11n Wi-Fi adaptor, which Windows states delivers a speed of just 72Mb/s, barely faster than 802.11g's 54Mb/s. 802.11n is capable of a much higher throughput, even allowing for Windows reporting the maximum possible speed rather than real-world throughput. The NB500 doesn't feel as quick as other 802.11n kit I've used, nor as able to cope with areas where a router's wireless signal is week."
Given the speed of the broadband behind the Wi-Fi, does it matter, beyond a certain point, how fast it connects?