With the new AES encryption instructions added with the Sandy Bridge Core chips (and first delivered with the "Westmere-EP" Xeon 5600s a year ago), encryption and decryption of data can run as much as four times faster as it did on prior Core chips (which had to do the AES math the hard way without dedicated instructions).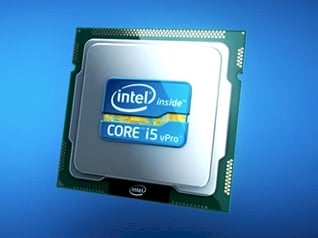 Like the label says: Intel's Core i5 vPro chip
The i7 version of the new vPro chip now has a remote controlled keyboard-video- and mouse (KVM) capability baked into the chip, which can be activated by system administrators working remotely before the OS boots. This means PC makers don't have to put a special KVM chip onto their machines to get this capability. (vPro-capable Core i5 chips already had this function.)
That KVM now can have a 1900 x 1200 resolution, too, which means system admins can properly see system BIOS and operating system screens, not always possible in low-resolution safe-mode booting situations. This higher res is available in all four 2nd Gen Core vPro processors.
All four of the new vPro chips also sport a faster Direct Memory Interface (DMI), which links the I/O southbridge in the chipset to the Sandy Bridge Core chips. (The Sandy Bridge chips do not have a separate northbridge in the chipset, which used to be a standalone chip for linking a CPU to main memory and graphics.)
The DMI 2.0 interface runs at 5 GT/sec, compared to 2.5 GT/sec on the prior vPro chips in the Core i7 and i5 families. All three chips are implemented in a 32 nanometer process by Intel and plug into the LGA1155 sockets.
You can read a whitepaper describing the 2nd Gen vPro chips here (pdf).
It may not have been clear from the announcement which desktop and mobile Sandy Bridge processors have vPro, Intel did say that it would be extending the vPro capabilities out from desktops and laptops to entry-level workstations.
Specifically, Intel said that the future Xeon E3-1200 family of chips, which are based on the Sandy Bridge designs and which will have some chips with embedded HD graphics and others that don't have it, will have at least some models that have the vPro extra goodies on them.
Workstations based on this "soon-to-be-released" Xeon E3-1200 family, which plugs into single-socket servers and replaces the older Xeon 3000 series of chips. These chips were expected sometime around the first quarter of this year. ®
Intel's vPro biz chips cross Sandy Bridge
COMMENTS
KVM in a chip.
Nice. Though not very scriptable. Sometimes it really is simpler to glue (electrically, sheesh) a serial port on and make sure the bios is workable over that, perhaps using the old trusty CLI, like how openboot does it. Expect scripts instead of paying a PFY to click on things remotely.
Now that we have that anyway and no longer get serial ports, can I use this the other way around too then, dual-use the laptop as a kvm for servers even if they don't have kvm goodies baked into the chip? No? How disappointing.
GPS nitpick
Sinds GPS generally stands for a particular satellite based positioning system and is actually global whereas mobile infrastructure based location divining isn't*, could we perhaps not confuse "GPS" with cellular positioning systems? CPS, CNPS, MPS, MNPS, you name it. Just not GPS because it's neither global nor using the GPSystem.
* It doesn't work at sea, for one. Yes, if your laptop gets lost at sea trying to turn it off by SMS message is probably fairly futile anyway. I am nitpicking about the use of the term GPS though, not about texting at sea.
I'm sorry Dave. I can't allow that
I see that you are in Iran.
(Dave has just powered on his laptop and connected it to the Cabin WiFi. He's flying from Germany to India.)
The Microsoft & Intel have decreed that this device cannot be used inside Iran. The CPU, Memory and the Hard Disk will self destruct in 5 seconds.
4...3...2...1...0
Thank you for buying Microsoft Windows and Intel. Designed to keep your data out of the hands of those pesky Iranians. Have a nice day.
Poof.....
I couldn't resist this one.