Samsung UE55D8000 55in net-connected LED TV
3D telly with downloadable apps
Streaming media
The D8000 is DNLA compliant but support is a little wobbly, with no across-the-network compatibility for MKV wrapped content, or SRT subtitles. The latest iteration of the Twonky DLNA server now offers specific support for Samsung TVs to address this, but my Nas box wasn't so up to date.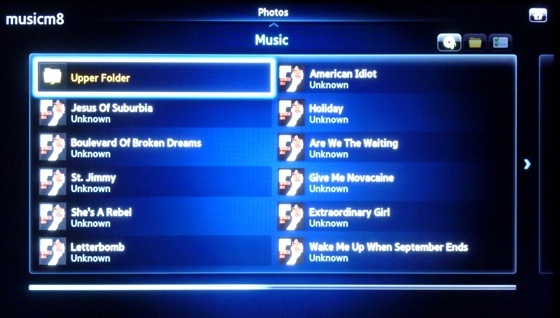 The DLNA media browser shows album art...
Similarly, while the TV could see my music server, and even showed album art thumbnails when I browsed, it failed to display that same artwork when a track was played, instead giving me a generic graphic. I suspect a metadata fail somewhere.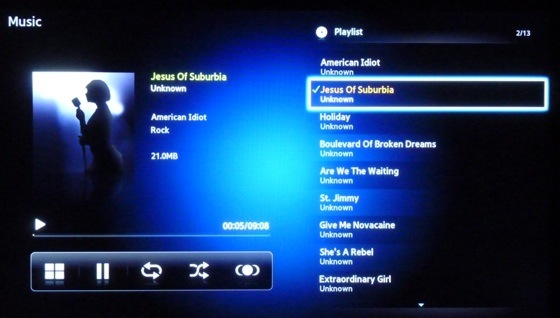 ...but it's missing from the playback screen
The telly is more accommodating with content stored on a disk attached to one of its USB ports. Presented on a Flash drive, my MKV collection became available, along with SRT subtitle files on AVIs. However, the lack of a easy-access, front- or side-facing USB slot will slow down your fun.
Despite the shallowness of the set - it's just 29.7mm - I was pleasantly surprised at just how even the edge LED backlight appears to be.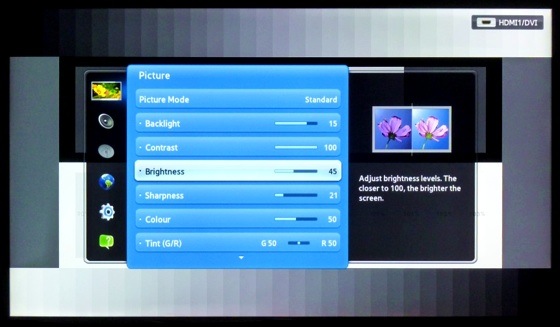 The settings menu
Motion resolution is outstanding - clear to 1080 lines - although there are caveats. To retain detail you will need to engage one of this Samsung's Motion Plus motion interpolation modes: Clear, Standard or Smooth. However, all but the Clear option create smudgy/ringing artefacts around moving objects, as the processor aggressively tries to predict where things are going as it generates the extra frames each second.
Sponsored: Minds Mastering Machines - Call for papers now open