Sinclair ZX81: 30 years old
All hail the pioneer of UK home computing
The ZX81 hits the high street
Like the ZX80, the new machine was offered as a £49.95 kit. But this time - and the use of a quality plastic casing suggests this was always going to be the case - it was also sold pre-assembled for £69.95. Both versions were made by Timex, which would later license the design for the US market, where the computer would debut in the States as the Timex 1000.
At such a low price - though still beyond the reach of many a computer-keen kid at the time, this reporter included - Sinclair sold truckloads. He was helped in no small part by the retailer WHSmith, which, by offering the machine in its shops, put it in the way of far more ordinary buyers than ads in early computer magazines would have done.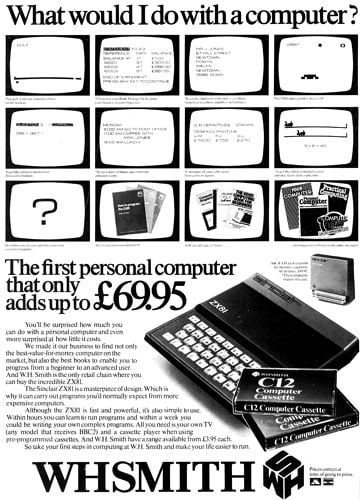 WHSmith had an exclusive for six months, and then other high street retailers jumped in too. Sales soared, Sinclair became a household name and even richer as his company's fortunes rocketed.
More importantly, a new consumer electronics category was born, and the UK home computer market was defined and led by UK companies. That would change, but not for a few more years. But by then thousands of schoolkids had had their first taste of computers, programming and, - crucially - games. Their hunger was not sated... ®
Thanks to the many ZX81 and Sinclair fans who provided the ad scans. Special thanks to reader David Corbett
Sponsored: Minds Mastering Machines - Call for papers now open