Sinclair ZX81: 30 years old
All hail the pioneer of UK home computing
Tomorrow, 5 March 2011, marks the 30th anniversary of the arrival of the machine that did more to awaken ordinary Britons to the possibilities offered by home computing: the Sinclair ZX81.
While its successor, the Sinclair Spectrum, got the nation playing computer games, the ZX81 was the tipping point that turned the home computer from nerd hobby into something anyone could buy and use.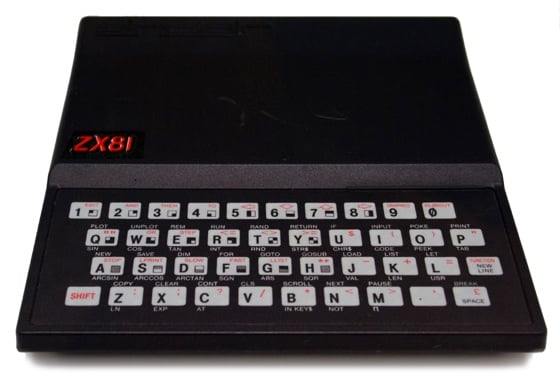 Sir Clive Sinclair would later say his Science of Cambridge company - later Sinclair Research - developed its first computers to make the money needed to fund other projects closer to his heart: the portable TV and what would become the infamous C5 electric car.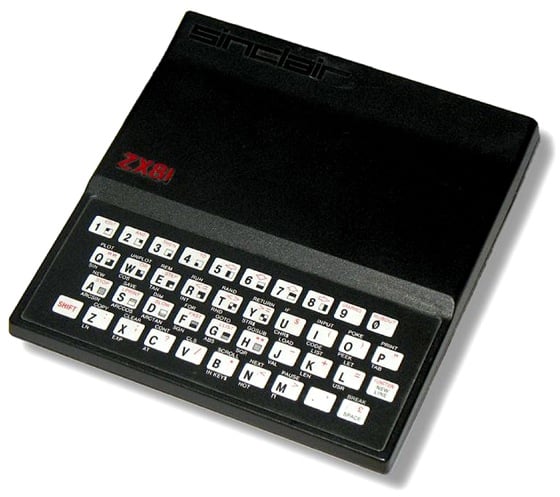 SoC's first offering was the MK14, proposed by staffer Chris Curry - who would later leave Sinclair to form Acorn and become rich on the back of the BBC Micro's success - as a DIY kit for electronics buffs.
Launched in 1978, the MK14 was basic: it had an LED array as a status and data readout. Very cheap it may have been, but it looked primitive when placed alongside the likes of the Apple II, launched in the US in the same year.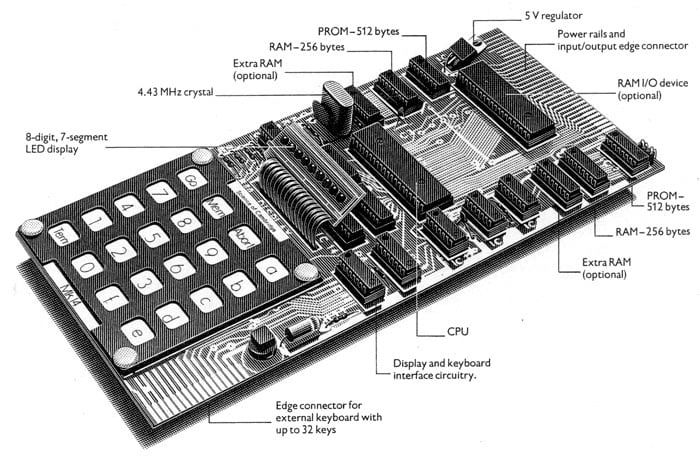 Science of Cambridge's Mk14
But the MK14 was sufficiently successful to warrant a follow-up, this time a machine that set the pattern for what was to come after, not only from Sinclair: a built-in Qwerty keyboard and a UHF modulator to allow a TV to be used as a display.
COMMENTS
Doing down a rare success
I'm not sure anyone's claimed Alan Sugar as a visionary. There's loads of tales of his early days and some of the interesting bodges used to make Amstrad products 'better' - but that's a separate post.
As for Sinclair - yes, he was lucky, but he was in a market where there were hundreds of other people trying to be as lucky, and failing. It's easy to forget in these days of near-two party OS politics, that alongside the ZX81 and Spectrum were devices from Jupiter Cantab, Oric, Tandy, Commodore, Newbrain, Dragon, Elan, Atari, MSX and a dozen others - each completely unique and incompatible.
Sinclair's skill at the time was getting more bang for less buck than virtually any of his competitors. He pushed components beyond their limits, made use of quirks in their specs and pulled together innovative technologies to deliver something unique. It was a scattergun approach that had as many failures as successes, but before commoditisation removed much of the advantage, he was putting home computers into the home. There has to be huge credit to the teams that worked on the machines - from Rob Dickinson's wonderful industrial design through to the FPGA and OS that ran inside.
Of course the industry changed massively and that shook Sinclair, Acorn and most of the others back down to nothing. I'm not sure that makes them less significant, nor necessarily less visionary. Very few technology companies have survived from those early days to present times, and even those have had disastrous moments alongside the successes.
It's a huge pity that these days we're so risk averse and so keen to ridicule people who're willing to try something different that we have trouble producing such exciting technology. Hold an iPad in one hand and a ZX81 in the other and think what could have been.
Nobody move
I am typing a game lol
I still have mine!
It still works greats.
Two words to get fellow owners nostalgic:
"RAMPACK WOBBLE!"
Gawd bless ya Clive and all who sail in yer.
The ZX81 Lives On
It is great to see so many positive stories about the ZX81 and such enthusiasm for it in what were the very early days of home computing.
I had my first ZX81 at the age of 13 in 1982 - purchased from my brother, so he could buy a Spectrum. I too had everything screwed to a board, to stop the ram pack wobble - but then I needed something, as it had to be balanced (together with the TV) on top of my bed!
I eventually moved it into a case with a full sized keyboard, but then sold that and moved onto the Sinclair QL which was still my main machine until about 2002 when I bought my first PC!
I still support the old Sinclair computers and have daily contact with other users. Over the last few years, we have brought replacement keyboard membranes for the ZX81 to the market, and the 30th Anniversary will also see the launch of the ZXPander - a modern interface to provide both additional memory and the ability to LOAD / SAVE instantly from SD memory cards.
A lot of new software has been written over the past couple of years, much of it using hi-res graphics on the ZX81 (something that was not really achieved until about 1983/4) - see www.rwapsoftware.co.uk/zx81/zx81_software.html
The discussion forums at http://www.rwapservices.co.uk/ZX80_ZX81/forums/ are also very active, with plenty of ideas floating around and development occurring as a result.
I wonder how many people will be looking back at Windows based PCs and celebrating their 30th anniversary..... Bet no-one will be looking back in 2030 at the 30th anniversary of WIndows ME / 2000 - that's for certain!
I bought the kit....
...and put it together with the help of my brother who was an electronic engineer (conveniently).
Worked first time. Then I added an aftermarkey 16k RAM pack as it was cheaper than the Sinclair one (drive to London to buy it from a shop). Later I put it all in an ugly oblong plastic case with a keyboard on it, which I bought just before the company in question went bust. It took me several lengthy phone calls to harass them into sending it to me but it was worth it!
I spent many a happy hour playing games from a small company in Portsmouth (where I live) called Automata who produced early software for it and later the Spectrum.... anyone remember Pimania, the treasure hunt game? I was so close to cracking that one..... turned up on the right day but went to Greenwich instead of Hurstmonceux.
Ah those were the days - 3D Monster Maze anyone?