Olympus PEN E-PL2 Micro Four-Thirds camera
EVIL by design
Compare and contrast
For example, you might be trying to dial in a slower shutter speed, but you'll accidentally call up the focus zone screen instead. It's a definite annoyance, and one that will make itself felt all the more keenly for photographers who make heavy use of the E-PL2's manual modes.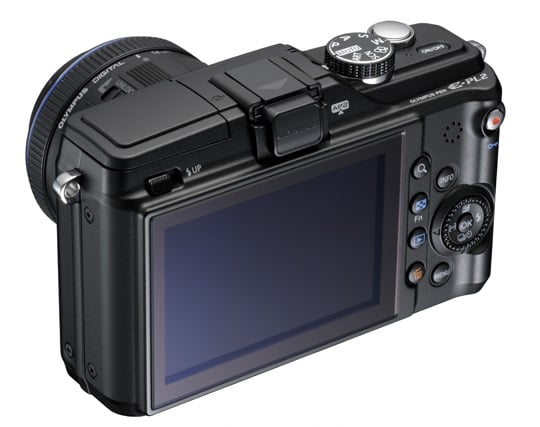 At 3in, the LCD screen has grown and there's a viewfinder attachment option too
The improved screen is large and bright, and besides adding a third of an inch relative to the E-PL1 it's also doubled in resolution from 230k pixels to 460k. The difference is obvious when you hold the two cameras side by side - the E-PL2's display looks far smoother. This isn't just an aesthetic frippery - flick the E-PL2 to manual focussing and the added definition on the LCD makes a definite difference to focus accuracy.
Those who can't live without a proper viewfinder are out of luck, as the E-PL2 doesn't come with one. You can buy either an optical or an electronic viewfinder as optional accessories, although the excellence of the screen and the high price of the accessories (£100 and £200 respectively) mean neither is terribly appealing.
The electronic viewfinder plugs into a port immediately under the hotshoe. The port and hotshore are normally covered by a thin slice of plastic, which needs to be more snug-fitting if the speed with which I lost mine is anything to go by. Shore things up with a tab of duct tape.
One of the major ways the PEN range initially distinguished itself from compact cameras was its performance, and the E-PL2 doesn't put a foot wrong. Like all mirrorless cameras it uses contrast detection to autofocus, but is none the worse for it. There's also a decent range of focus options, from fully-automatic to manual. In between, you can opt to pre-select a focus zone.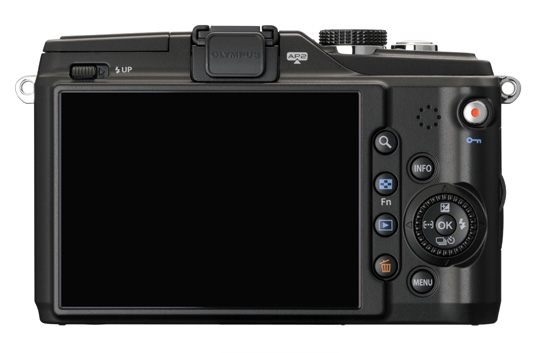 Navigation is still with buttons and wheels, that's no touchscreen
With the viewfinder showing the entire scene, you get 11 focus zones to choose from, clustered around the middle of the frame. Zoom in, though, and you can move the view around the frame, giving you 225 focus points to choose from - although this takes a long time to set up and is best saved for painstakingly created still life shots. You can also opt for a semi-automatic autofocus mode, in which the camera attempts to focus when you half-press the shutter release, but you can take over at any time by twisting the focus ring on the lens.
Sponsored: Minds Mastering Machines - Call for papers now open