Ten... fantasy swords you wish you owned
A slice of the action
Soul Calibur blades

The Soul series was all about swords, so how could we leave it out? Unlike Square Enix with its Final Fantasy collection, Namco Bandai gave the OK for replicas, so they can be picked up quite easily over the net.
This is the Soul Calibur, the ultimate tool for battling evil. In the game, it reacts to those who are pure of heart and can change shape, heal wounds and fill a user with strength in battle. Of course, the same can't be said of the replicas, but they could still fill its user with a sense of confidence. While it will only create wounds and change the shape of those you decapitate, the Soul Calibur is not to be taken lightly.
Here's the image of a custom-made beauty, which was the finest one I could find online. Unfortunately, the dude has stopped taking orders for his handiwork, but does offer detailed descriptions of how to make your own fibreglass weapons.
If you'd prefer to take the easy route, there are replicas on sale all over, but none look as impressive as this.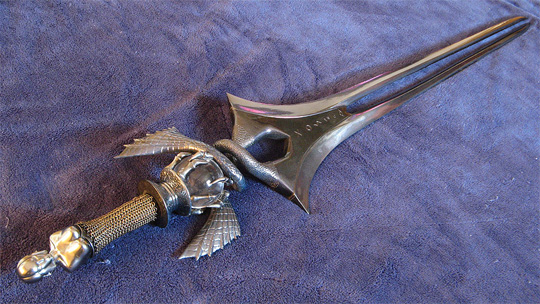 Star Trek Klingon Bat'leth

"Is that a Bat'leth in your pocket are are you just happy to see me?" Oh, it is a Bat'leth, and you don't look very happy.
Klingon weapons aren't just for the hardcore Trekkies out there, anyone would look bad-ass with one of these and you certainly don't want to mess with someone carrying it. Otherwise known as the sword of honour, the Bat'leth is considered the most popular weapon among Klingon warriors.
A regular bat'leth is 116cm long, welded from composite baakonite. As far as I'm aware that's a fictional compound, so you'll have to make do for stainless steel in this case. While the following is far from a traditional style Bat'leth, it still looks menacing enough.
If a large Cornish pasty-headed rogue pulls one out on you, here's a useful phrase to know: "nuqDaq 'oH puchpa''e'?" You will want to follow his subsequent directions to change out of your yellow fronted brown-backs.

Sponsored: Minds Mastering Machines - Call for papers now open