iPhone to whup Sony PSP 2
Casual gamers won't turn out for portable console, says publisher
The head of a casual gaming giant reckons Sony's upcoming NGP - aka the 'PSP 2' - will be "dead on arrival" and claims it will never match up to the might of iOS.
Neil Young, CEO of games publisher Ngmoco, said the PSP successor will find it "difficult to compete with an app store that has hundreds of thousands of applications and a wide range of options".
In an interview with Industry Gamers, Young made clear his feeling that traditional portable consoles don't have a very bright future.
However, as the head of a firm that specialises in smartphone games, he would say that wouldn't he?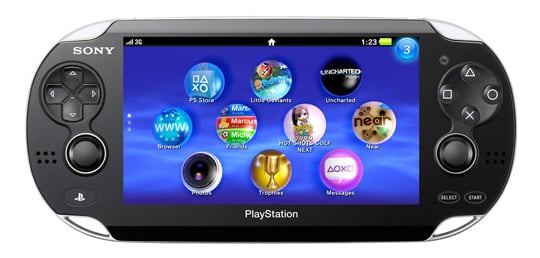 But if the NGP's specification and design is anything to go by, it's hardly trying to compete with the casual game market. After all, we thought the NGP is some kind of portable PS3. Young disagrees.
"It's not a PS3 quality experience," he said. "You need a range of things and what I think the iPod Touch and iPhone have been able to do is offer people Swiss Army Knife-type functionality for a device that plays games really well."
You may have a point there, Mr. Young, but when the iPhone offers Uncharted and Metal Gear Solid 4 with full gaming controls built in, let me know.
The jury is out. Will Sony's NGP be dead on arrival when it hits stores later this year? Let us know what you think below. ®
COMMENTS
Think PSP ...
Apple will have two problems here:
The hard core gamer is almost definitely not going to buy a phone for a gaming device; much less likely to want to run games on a phone that they already have or will get as a contract upgrade.
The second part is the threat comes from a device like the NGP, which is priced more to compete with the iPod Touch, doesn't require a contract and is more likely (than a phone) to be bought by a parent for a child (I'd buy my 8 year old a gaming device, but not a phone).
So Apple and its partners will have to deliver something that really pulls the punters away from proper gaming platforms.
They'll never sell as many NGP's as iOS or Android devices, but they don't need to do that to succeed (i.e. make a profit overall). Not every iOS or Android device results in revenue for gaming, but every NGP will generate revenue for both Sony and the game publishers; history has shown that even if they give the NGP away for free they will be in profit almost immediately.
A touchscreen is enough for all gamers....
... in the same way that 640Kb should be enough for everybody.
To contradict an earlier poster - Nintendo proved that there is a huge portable market for adult gamers long before the iPhone got Angry Birds.
This argument is like saying no-one needs a PS3 when they can play Solitaire on the PC.
Different market
Sony are definitely more interested in hardcore gamers over casual as they will buy many more games over time and be willing to spend more on them.
Personally, physical controls for gaming are a must. I really can't take to touch screen controls for even simple games. For something like Metal gear give me analogue sticks and push buttons every time
ITS GOT THUMBSTICKS!!!!!
Well, if you define the casual gamer as someone satisfied with Angry Birds, then yes, they'll not touch the NGP, because they've already spent hundreds of pounds on something that will satisfy their low aspirations.
On the other hand, if you want a proper gaming experience, iOS has yet to produce anything aproaching a workable FPS, driving game, or indeed any kind of game that you'd want to control with thumbsticks, because the touchscreen equivalents (and the gyroscope) are just fundamentally rubbish at controlling games. The original PSP was also pretty poor at FPS's with only one thumbstick, but the NGP has 2 and that is a potential game changer on portable gaming.
So, yeah, the NGP is probably only going to sell to the hardcore gamers, because apparently most sheeple are satisfied with the mini-game pap that floods the app store. Bitter? Me?
(on a related note, where the hell are all the god games and rpgs on the iPad? Command and Conquer? Baldur's Gate? They don't have to write new, just port the old ones! The damn thing could have been made for Black and White, for chrissakes! Civ:revolution is not enough!)
One Device To Rule Them All
Why do the manufacturers seem to think that we all want one device that does everything so-so or badly. The best analogy I can come up with was the argument against IE being part of Windows."a screwdriver is a useful tool, but it doesn't make it more useful by glueing it to your hand". Because you can do something doesn't mean that you should