BT fibre-to-the-premises trial takes 7 hours per install
Fingers, blowers and splitters in Milton Keynes
Ducts, telegraph poles, manifolds, splitter nodes and a very steady hand
BT said it's taking seven hours on average for two of its engineers to complete one "managed install" of the new kit at a customer's home. The company is trying to push the work down to around four hours, but it hasn't nailed that yet during the trial.
Furthermore, the telco can expect bigger challenges when it begins dealing with much older infrastructure than the relatively well-planned duct system in place in Milton Keynes.
Once a customer signs up for BT's FTTP service, the firm's engineers arrive on-site and proceed to blow fibre through to the punter's home. It's a fiddly task involving lots of spliced fibre that is threaded through to an outside connector, which in turn feeds into a BT-branded box inside the house.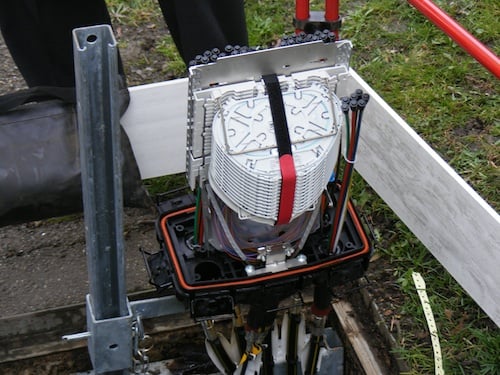 Splitter node – where the magic happens
The fibre is installed from BT's exchange down to a device called a manifold that resides in the ground or up on telegraph poles. But it's a lengthy process.
Cables containing individual fibres are fed out to a splitter, where engineers then splice it and split it to provide the service to up to 32 customers.
The difficult part for the engineers is in getting the fibre pushed through the tubes via narrow subducts that are already used for existing telecoms infrastructure. BT said that the cabling has to be pulled through by hand as there is no tech in place that could somehow automate the finger-freezing process.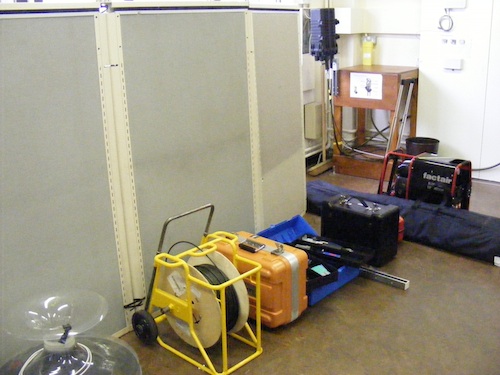 BT kit loaded onto vans for FTTP deployment
To put that into perspective, in the Milton Keynes area alone, BT has distributed 600km of cables and around 4,000 manifolds for the 11,500 homes it has "passed" so far.
Once the cable reaches its destination point, BT engineers then blow the fibre through duct tubes using compressed air. The endgame involves connecting up the splitter to the distribution point, which in turn is plugged into the manifold before finally being threaded through to a customer's property. It's a process known as splicing.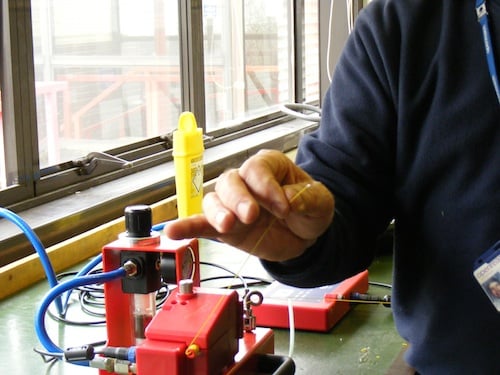 Fibre splicing
An engineer has to strip off the fibre's colour-coded protective coating to get to the delicate, hair-thin piece of cable. It can do nasty things to an engineer if it breaks and gets lodged in their skin.
Once the fibre is exposed, the engineer cleans it with rubbing alcohol and then uses a box excitingly dubbed a "fusion splicer". The device helps to line the cable up and then sticks the two ends together. The ends, guided by the box, have to be lined up accurately, otherwise it flashes a red light confirming that the engineer needs to realign again.
The cable then gets blown into a customer's home and "hey presto" they are given access to BT's fibre network that offers downstream broadband speeds of "up to" 100Mbit/s.
No wonder then that the process is a lengthy one. BT has committed huge man hours to the project, while its main rival Virgin Media says it sees "no compelling reason why" it should heavily invest in FTTP at this time.
For BT, the Milton Keynes trial remains purely a testing ground for now. It is possible that the procedure could change once the company begins rolling out its tech to other regions in the UK. And it's important to note that customers will not be able to choose how fibre is delivered to their home or business. Depending on the infrastructure, they will either get fibre-to-the-premises or fibre-to-the-cabinet.
Beyond that, BT faces local opposition to its OpenReach vans "swamping" streets, estates and businesses as its engineers grapple with all that fibre. It's also getting negative vibes from grumpy landlords too. Ultimately, no matter how exciting the idea of "superfast" broadband might seem, there's a truckload of red tape to cut through first. ®
Sponsored: RAID: End of an era?