iPad 2 spawns updated iOS and apps
Fondleslab finger candy
In addition to unveiling the iPad 2, Apple revealed details of the operating system that will run on its new fondleslab and other capable iOS devices, while also demmoing two new apps that will ship with iOS 4 and two that will be available from the iTunes App Store.
iOS 4.3 includes a number of enhancements and new features:
What Apple senior vice president of iPhone software Scott Forstall referred to as "significantly increased Safari performance" due in part to the addition of the Nitro JavaScript engine, which Forstall claims will more than double Safari's JavaScript speed.
iTunes Home Sharing, which will allow you to stream content from Mac-resident music and video files to your iOS device over Wi-Fi.

There's nothing wrong with a bit of mindless entertainment, and Photo Booth is willing to oblige

Enhancements to AirPlay, the feature that allows you to stream media from your iOS device to your TV – if you have an Apple TV, that is.
You now have the choice of using the iPad's side-mounted switch to be used as either amute button or a rotation lock – a response to the fanboi outcry when Apple switched that switch's function from rotation lock to mute button in an earlier iOS version.
Personal Hotspot (iPhone 4 only), which, as its name implies, allows you to share your iPhone's 3G connection with other iOS devices over Wi-Fi. Oddly, no mention was made of this feature ever being available for WiFi-plus-3G iPads or iPad 2s.
Apple also demoed four new new iOS apps, the first two which will ship with iOS 4.3, and the latter two to be available on the iTunes App Store:
The droll photo-effects divertissement Photo Booth, formerly a Mac OS X–only app, will now be available for the iPad 2 – now that the tablet includes a camera.
FaceTime for iPad, another addition that comes thanks to the iPad 2's cameras, enabling video calls among iPad 2, iPhone 4, fourth-generation iPod touch, and Mac users.
GarageBand for iPad is a new multi-touch adaptation of the surprisingly powerful Mac OS X audio recording, loop-based composition, editing, and effects-generating app. Whether GarageBand will be iPad 2–only when it ships on March 11 Apple didn't specifically say, but it will be able to share files between Mac and iPad versions. Don't expect to share your more-complex Mac compositions though – the iPad version will support only eight simultaneous tracks and ship with 250-plus loops.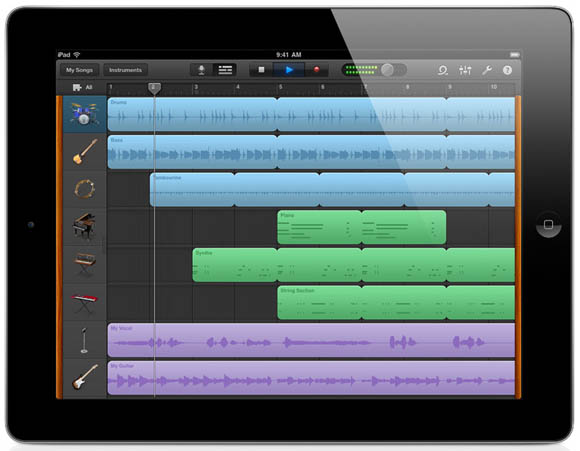 We look forward to discovering if GarageBand for iPad includes its big brother's vast array of tweakable effects
A new version of the straightforward iMovie video-editing app includes the ability to use supplied soundtracks, live audio, or music from your iTunes library, and the ability to send your edited vids to YouTube, Facebook, Vimeo, CNN iReport, and your iTunes library. iMovie is also available for the iPhone 4 and fourth-generation iPod touch, but the larger display real estate of the iPad 2 makes it the go-to slab o' choice.
At the end of Wednesday's presentation of the iPad 2, iOS 4.3, and new iPad-centric apps, Macworld reported (Reg reporters are personae non gratae at Apple shindigs) that Steve Jobs coyly said: "I think we stand a pretty good chance of being competitive in this market."
Odds are, Steve, you're right – as you said earlier in the event, Apple now holds over 90 per cent of the tablet market.
And as Macworld also quoted you as saying: "Our competitors are just flummoxed." ®
COMMENTS
Expensive music player
These things are not about playing music. Who'd buy an iPad just to listen to music? Not trying to defend the iPad, don't own one, don't want one, but your last sentence makes no sense
Specs, smechs
So what if it's got similar specs to the viewsonic tablet? How many apps has that got?
When are you haters going to come round to the fact that it's all about the software?
Well no suprise there then
If you have lots of "i" things it will communicate beautifully, if you own technology that dares to operate outside the walled garden.....sorry not supported.
All hail the iJobs
Specs designed for next year's grab for middle of market
Seems like Apple don't feel too much heat from competitors (although non-iOS fans will disagree).
These specs are designed to live on in the iPad 2 when the iPad 3 comes out next year. A whole new market will open up when Apple sell these new ones at £150 off the current prices from Easter next year.