Dell Inspiron Zino HD 410
Diddy desktop with designs on your telly
Access all areas
Of course, whether you actually need this extra power on what could well end up simply as a media playback device is questionable. A more modest Athlon II X2 P360 version is available for £349 - £180 less than the model I tested - but at this price you also have to sacrifice the Blu-ray drive, a gigabyte of memory and a large slice of storage space.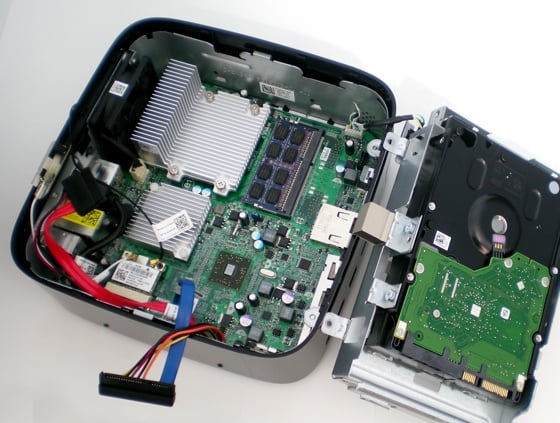 Not the easiest box to upgrade
Although the coloured lid pops off nicely, getting at the guts of the system is a little more involved. Ignoring the fact that I'd actually have to put the blighter back together again, I began whipping out any screw I could get my hands on, which allowed me to remove the top of the chassis, slide out the Blu-ray drive out and wiggle the hard drive cage free. This revealed the miniature motherboard, wireless card and a single memory slot with 2GB of DDR 3 Ram loaded. The other 2GB module is accessed by removing a separate panel on the underside of the chassis.
Unsurprisingly, a fan constantly whirrs away in order to keep the rather cluttered internals from burning up. It's barely audible so won't ruin your film watching, but it does kick out a fair bit of heat and requires plenty of breathing space.
Given this piece of kit is clearly designed to be attached to a big-screen, it's a shame there's no TV tuner included in the price. You can, however, add one, complete with remove control, for a £20 premium. With the cramped conditions inside I'm guessing the tuner comes in the form of a separate USB stick.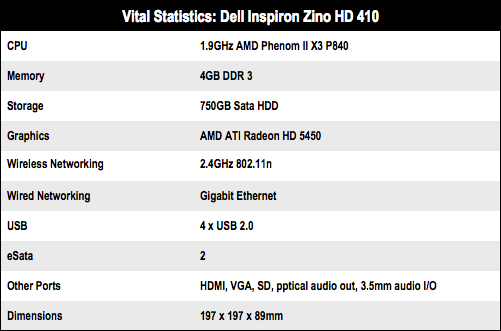 Spec as reviewed