Kinect blesses rescue robot with 3D sight
Peripheral vision
Microsoft's Kinect sensor can be used for much more than just entertainment. In fact, it's already being utilised in a device that could save lives.
A team from the University of Warwick has used Kinect to develop a rescue robot that navigates dangerous places in search of survivors, BBC News reports.
This would be ideal for the current situation in Christchurch, as some buildings have proven too risky for rescue teams to enter and 200 people remain missing amid the chaos.
According to Warwick Mobile Robotics (WMR), the machine uses Kinect to create a full 3D view of an area, rather than the linear representations produced by a laser range finder. This allows the team to quickly produce a full 3D map of a building's interior to help rescue services streamline the search process.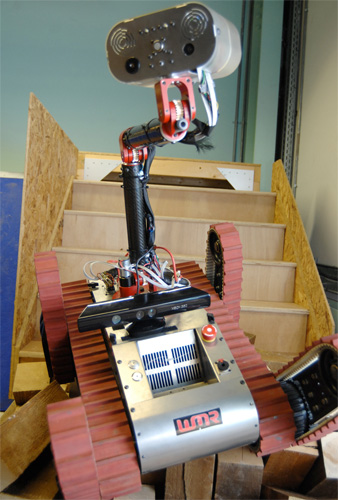 The use of Kinect also knocks £2000 off the cost of producing the robot, the team said.
Until recently, Microsoft wouldn't allow its hardware to be used on devices other than its games console. The WMR robot was only made possible when hackers tore a Kinect apart and released unofficial drivers for use with other platforms. That has now changed and Microsoft officially announced a Kinect SDK for Windows last week.
The development kit won't be available until later this spring, but when it does hit the market, it'll pave the way for similar life-saving technologies to be produced. Soon, we'll find Kinect help in more places than simply a troubleshooting manual. ®
Sponsored: Minds Mastering Machines - Call for papers now open