Speaking allowed
Just above the dock connector there's an unobtrusive microphone that allows the Audio Dock to act as a speakerphone – there's one on the back too, to facilitate noise cancellation – and a conveniently timed phone call allowed to me confirm that the speakerphone features work very well.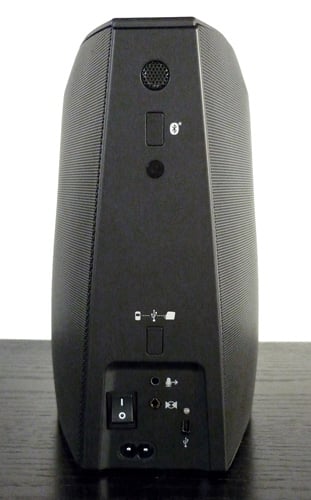 Interfacing provides support for telephony with external devices
A glance around the back of the unit also reveals audio input and output connectors that allow you to connect the Audio Dock to a Mac or PC so that you can use it with VOIP applications such as Skype.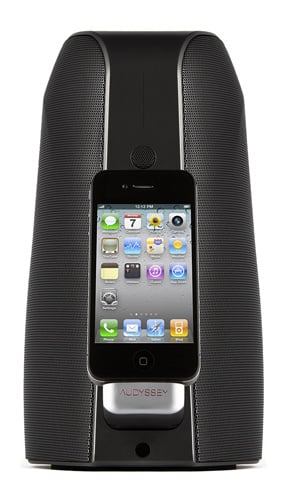 It all sounds rather good, apart from the UK pricing
Verdict
The Audyssey South of Market audio dock is certainly a high-quality piece of kit, and its iPhone app will appeal to audio buffs who like to fine-tune the sound themselves. Even so, its £349 price tag seems a bit steep, especially if you don't need its Bluetooth and telephony features. I'm impressed by the sheer quality of its design and construction, but it still looks a bit over-priced given that the US price is only $400. ®
More Audio Gear Reviews…

Xtreamer
iXtreamer
Roberts
Stream 63i
Denon Ceol
with Apple AirPlay
Onkyo
CS-545

Audyssey South of Market audio dock
Well designed, high quality audio dock with speakerphone capabilities and more besides.
COMMENTS
It's an expensive docking station....
At the end of the day it's an iPod/iPhone docking station. While the capacities of the iPod/iPhones keep getting bigger, the menu interface for sorting through them begins to struggle the more albums/tracks you have. While I don't doubt its build quality or audio capabilities its an awful lot of money to pay for something (iPod/iPhone) that has a fairly short lifetime before they are replaced. This is more pronounced for iPhones which tend to be replaced when the current contract comes to an end.
Apple have been the market leader or quite sometime which has ensured that the format of the iPod/iPhone docking station has remained stable and consistent. However, there is now a lot of competition out there and the Android phones are proving to be very popular. How long will the i<whatever> docking station continue to be in demand?
Andy
iAudiophile?
I thought that was a fan of iAudio's kit?
http://www.iaudiophile.net
They're not gonna like you for that