Samsung goes super slim with Notebook 9 series
Tries to bite into Apple
Samsung released a super-slim notebook today in a bid to compete with Apple's MacBook Air. The company also said it will increase laptop sales by 80 per cent in 2011.
The 13.3in Notebook 9 Series is 16mm thick and weighs 1.3kg. It runs on a Core i5 processor and comes with a seven-hour battery life.
Samsung says it will cost ₩2.49m (£1370) in South Korea, although there's no word on pricing for its European launch, expected in March.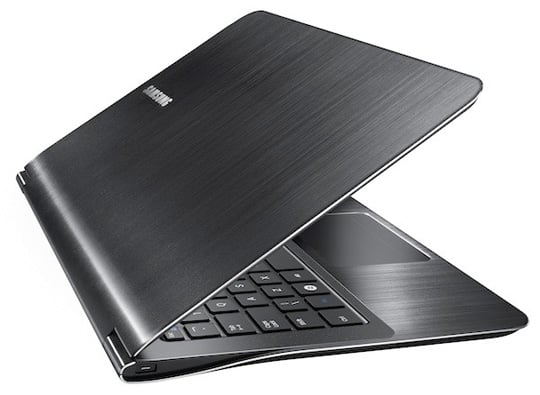 The company has also confirmed it will market an 11.6in Notebook 9, which runs on a Core i3 processor instead, Engadget reports.
In a press conference in Korea yesterday, Samsung said it intends to raise annual laptop sales to 18 million - an increase of eight million units - and aims to move up a notch in the mobile PC market from last year's seventh place in sales rankings. ®
COMMENTS
Yea boo hiss samsung
Bringing Sony levels of quality and style down Market and affordable.
Supplying dozens of manufacturers (eg Apple) with quality Arm based cpu's, flash memory and LCD's.
Fact of the matter is without Samsung the CE industry would be poorer place.
But hey don't let reality get in the way of your rant.
Nope
Macbook Air £757 to £929 - and that's before you take off the Education Discount. No Mr Samsung!, No!
OOF
By the power of Greyskull that's a lot of money.
Expensive BUT!
Samsung make some of the best laptops around, I had one that seemed to just keep going and going and going until i dropped it down the stairs, miles better than the crappy Tosh which replaced it and easily as good as my wifes' Sony.
Their TV's along with LG are some of the best! Don't know where Jaimi came to the conclusion they are average, for image quality it has always been Samsung vs. Panasonic, people THINK Sony are better because they charge more, it simply isn't true though!
This laptop looks much nicer than the Air to me! And bringing a smaller version of a product out is NOT innovation, don't kid yourselves! Size reduction is natural, especially in portable devices, how many ways are they expected to do it? You expect them to somehow innovate an EVEN thinner device? Give me a break!
Well it looks shiny.
If not very original. That power socket on the side looks very much like apple's magsafe...
Maybe I'll wait a year or so and pick up a cheap one on ebay (as seems inevitable).