Nintendo brings fibre to Elephant & Castle
Kirby weaves his way into the UK's greyest area
Nintendo is brightening up south London's Elephant & Castle today, with a colourful array of knitted fabrics to celebrate the release of Kirby's Epic Yarn for Wii.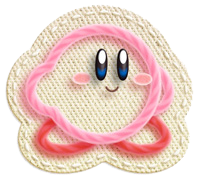 Recent YouGov research, commissioned by Nintendo, found that 32 per cent of Londoners voted Elephant & Castle the greyest area in the UK. This busy urban intersection is apparently duller than places such as King's Cross, the South Bank, Slough, Milton Keynes and even Birmingham.
Kirby's Epic Yarn sees the return of loveable yarnball Kirby take an adventure through a fabricated world of embroidery called Patch Land. Nostalgia for many Gameboy fiends, I'm sure.
The woven spectacle, created by Knit The City, is for today only. Visitors to the grey Elephant have the chance to take home a preview copy of the game, which is released on February 25. Go check it out. ®
Sponsored: Fast data protection ROI?