AMD's Bulldozer cores to push to 3.5 GHz and beyond
Big bump in oomph per socket
McIntyre said that AMD was particularly proud of the power-saving features of the Bulldozer design and how it stacks up to the cores used in the current Opteron 4100/6100 processors. Here's how the chips compare: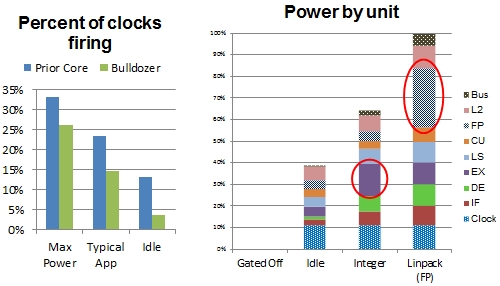 On the left, you can see how the clocks are a lot less busy, supporting the same applications with the Bulldozer design rather than with the "Lisbon" and "Magny-Cours" cores. The chart on the right shows the power budget by core component type when the Bulldozer core is gated, running idle with no work, supporting an integer workload, or running an intense floating point benchmark (in this case the Linpack Fortran test).
Here's how the power budget on the Bulldozer core module works out when it is running at 1 volt at a 100°C temperature according to AMD's initial benchmark tests:
The interesting bit in this chart is that power leakage in the circuits consumes 23 per cent of the maximum power budget for the module; another 10 per cent is used for the global clocks on the module to synchronize the components. So there is not really much more AMD can do to reduce the idle power using GlobalFoundries' 32 nanometer processes. The power gating, as the chart shows, takes the core down to a fraction of the max power – you can barely see it. The other interesting piece of information is that on a typical workload, the Bulldozer module will run at about 63 per cent of maximum power.
McIntyre said that AMD was targeting clock speeds of 3.5 GHz and higher with the Bulldozer cores within the same power envelop as the current Opteron 4100 and 6100 processors. AMD just cranked the clocks on the Opteron 6100s last week, pushing up the 12-core Opteron 6180 SE to 2.5 GHz and the eight-core Opteron 6140 to 2.6 GHz using a 45-nanometer process that has run completely out of gas. The top-end Opteron 4184, which has six cores, runs at 2.8 GHz.
It would be very interesting to see AMD boost clock speeds on its 16-core "Interlagos" chips to 3.5 GHz right out of the chute late this summer while also boosting the core count by 25 per cent. With a 40 per cent boost in clock speed, that would yield an aggregate performance boost of 75 per cent per socket in the same power envelope. AMD needs that kind of leapfrog in performance and performance per watt to get the attention of server makers and their customers. I doubt very much that AMD can hit 3.5 GHz or more with the initial Interlagos Opterons, but maybe AMD can surprise the market in a good way this time around. ®
Sponsored: Minds Mastering Machines - Call for papers now open