Bulletstorm
Is there a new Duke in town?
Mon armour
Before your eyes have had time to adjust and take in all that beauty however, you find yourself fending off the types of crazies which wouldn't look out of place in a Mad Max movie. Luckily, Hunt has more than enough firepower to take the fight to them.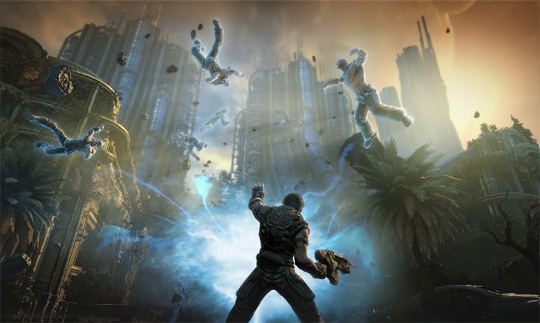 Blow 'em off with one lick
Weapons vary from the standard – fully automatic rifles – to the messy – the flail gun which wraps enemies in a cluster of explosives before detonating – to the downright cool, for instance the sniper-rifle, which fires fully guideable bullets – just watch your target run. That Hunt can only carry three weapons at a time is the only limit.
Hunt's armoury doesn't stop at guns either, sporting an energy whip, a heavy duty boot (you know, for kicking) and a slide attack, which rapidly closes the distance to would be dead guys, Hunt's repertoire of attacks trumps that of most shooters. Should I shoot this cannibalistic hominid in the head or grab him with my energy whip… or maybe kick him into that crevasse?
Needless to say, after considering my options the answer became clear: pull him out of cover with my whip, shoot him a few times in the head at point blank range, before kicking him into the conveniently situated chasm. All in the interests of balance, of course.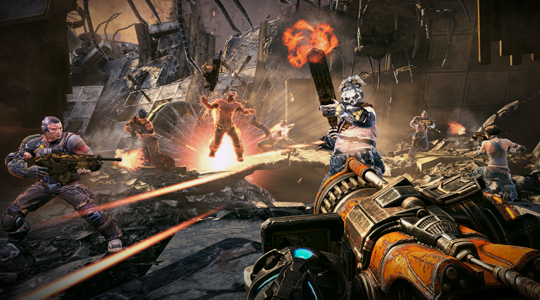 Some kind of voodoo
Such physics-defying hijinks are made possible thanks to a Matrix style slowing of time which occurs whenever Hunt boots or whips an unlucky foe; theoretically giving you the time required to pull off all kinds of madcap attacks, or skillshots, as they're known in Bulletstorm. The more outrageous the kill the more points rewarded, and points mean prizes in the shape of weapon enhancements.
Sponsored: Minds Mastering Machines - Call for papers now open