Bulletstorm
Is there a new Duke in town?
Whip it good
With each weapon contributing its own unique skillshots, attempting to claim all becomes something of an addiction – particularly the tougher to pull-off ones. Try grabbing a foe with the whip, shooting his mate and finishing off your first victim before he hits the ground. Not easy. Skillshots come into their own during multiplayer gaming too, with players able to team up to complete a whole different roster of skillshots than those you'll find in the single-player campaign.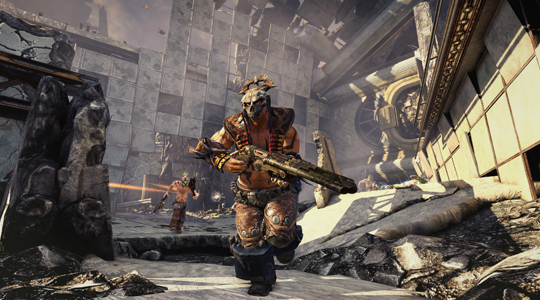 Gonna send you back to mother in a cardboard box...
Bulletstorm's variation in its approach to combat is something of a double-edged sword, however. While you have untold ways of going about your murderous business, for me it became pretty obvious what worked and what didn't, leading to my eschewing a few of the guns on offer altogether. Still, it means you can always mix it up on the next play through Dead Space-style.
Without ruining too many surprises the variety of enemies on show is impressive with later foes proving much more intelligent, able to avoid your whip attacks, for example. You'll get assistance of the gargantuan kind in one memorable chapter too (again without spoiling anything), though your AI comrades, a cybernetic Ishi and others, contribute little more than taking up a position and blasting away mindlessly.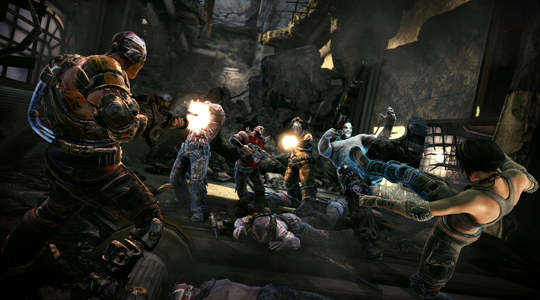 Meet the sidekick
A quick mention of multiplayer too, though a lack of servers at the time of writing means there was no way to test it on-line. On a local network, however, it proved entertaining stuff. Anarchy mode is particularly enjoyable, a riff on Halo: Reach's Firefight mode where waves of enemies must be defeated, the difference being that you must hit a certain skillshot score in order to progress through the waves. Echos mode, meanwhile, opens up sections of the solo-player campaign to multiplayer freestyling to great effect.
Verdict
Bulletstorm is gaming's equivalent of The Expendables, only a lot more fun. And it's refreshing to see the FPS genre stripped back to its fundamentals, namely, a huge emphasis on the fun. Only a lack of a particularly engaging narrative negates what is otherwise an early contender for shooter of the year. ®
More Games Reviews

Mindjack
Dead
Space 2
Mass Effect 2
for PS3
Call of Duty:
Black Ops
Sponsored: Minds Mastering Machines - Call for papers now open

Bulletstorm
Shoot, kick, whip, take a breath, repeat… the formula for an all-out assault on the senses. Available on Xbox 360 (tested), PS3 and PC.