Bulletstorm
Is there a new Duke in town?
Who goes there?
Not one to stand on ceremony the game's prologue, 'On the road to hell' doesn't over play its welcome, serving merely to introduce the game's protagonists: the aforementioned Hunt, the soon-to-be unlucky Ishi Sato and the rest of Dead Echo, Hunt's merry band of mercenaries.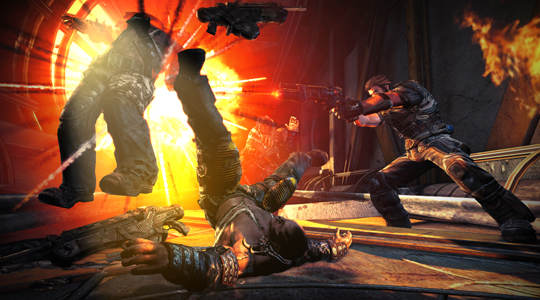 Blowback time
Then there's the game's villain, General Serrano, erstwhile commander of Dead Echo before Hunt, et al caught wind of a state-approved conspiracy of murder and went AWOL. In fact, it's a chance encounter with Serrano's flagship which provides the raison d'être for the game's events.
With his arrogance and hunger for revenge inflamed by drink, Hunt goes on the offensive in a nicely integrated, fully playable, attack on Serrano's ship. Finally resorting to a spot of kamikaze flying, Hunt's ship is soon hurtling uncontrollably towards a nearby alien planet – followed not far behind by the flagship.
Regaining consciousness in a world of scrap metal and dead crewmen, a suitably chastened Hunt grabs his mortally wounded helmsman, Ishi, and takes him to sickbay. Of course, never is progress so easy, as it turns out a powercell is required in order to get the ship's surgical devices on-line. Here's where any pretence of set-up ends and a breakneck speed, all-guns blazing shooter begins.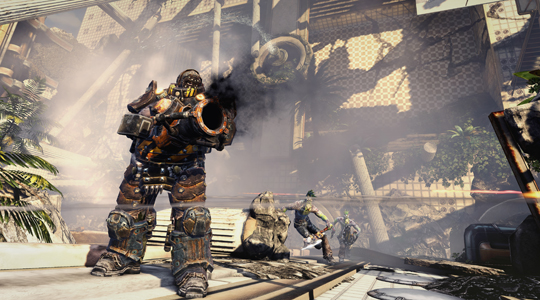 Metal gear squalid
Upon exiting the ship the first thing you'll notice is the gorgeous scenery on show, a heavenly vista of crystal-clear skies and thick vegetation. Bulletstorm's outdoor environments shine with a mixture of iridescent colour and sun-soaked lens flare which has, until now, been the sole domain of the racing genre.
Sponsored: Minds Mastering Machines - Call for papers now open