Cowon D3 Plenue Android media player
Entertaining view
Walled garden
Although the D3 runs Android 2.1, Cowon has done a thorough job of locking it down and modifying it. This means you don't get any Google goodies nor the Android Market. Furthermore, the absence of a file manager or Cowon 'apps store' further hinders loading third-party APKs. Alas, I couldn't connect the D3 with the Android SDK, which is generally a sign of serious behind-the-scenes tinkering.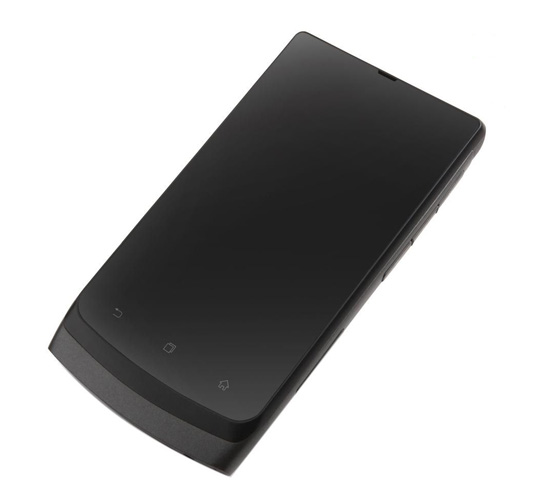 Further expanding existing functionality with additional apps appears unlikely
What Cowon does give you is Wi-Fi, Bluetooth, the standard Android web browser and e-mail client, an FM radio, calendar and a nice selection of widgets to populate the five home screen pages.
Yet the most impressive feature of the D3 is that it will play most standard video codecs and containers. These include MP4, AVI, MKV, QuickTime, VOB and TS up to and including 1080p. Audio file support is similarly comprehensive with AAC, Flac, WAV, Ogg Vorbis, WMA and MP3 all catered for. Most common subtitle and image file types are also supported, which makes the D3 one of the most versatile pocket media players on the market.
CPU and RAM issues may blunt the UI's performance but they don't have any effect on video playback with even 1080p MKV files running perfectly smoothly. In fact, video looks quite superb on the D3 with sound quality to match. The latter is bolstered by Cowon's, always impressive, JetEffect 3.0 and BBE+ sound modification suites, which work with both music and video files.
There are a few problems with the D3 as a general purpose media player though. To start with there are no playlist options of any sort and no DRM support so you can forget about watching BBC iPlayer downloads. Gapless albums aren't recognised as such either and on the navigation front, when you tap "Artist" in the music browser, all the tracks present themselves in one long list rather than subdivided by album. OK, there is a separate album view, but that's not the point.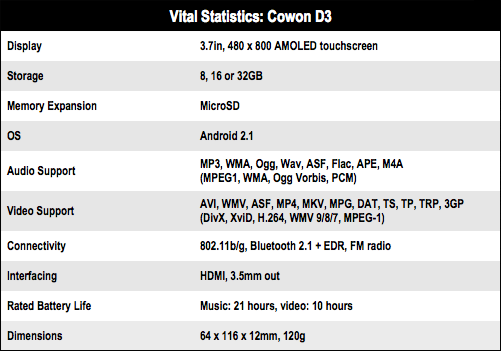 Sponsored: Minds Mastering Machines - Call for papers now open