Mio Navman V575 TV satnav and Freeview tuner
Watch telly when you're driving – seriously
Driving transmission
In the interests of science, I scooted around the M60 while watching BBC News 24 one evening and had a watchable picture about 75 per cent of the time and a partly frozen screen or No Signal for the remainder. Still, this probably says more about local Freeview reception than the V575. If live TV isn't your thing, the V575 will also play WMV video and MP3 music files.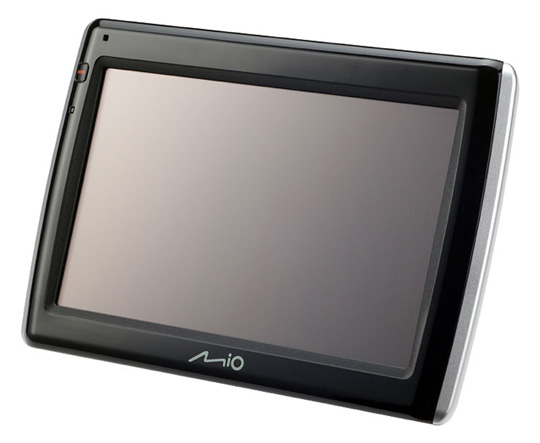 A good idea? All depends on your viewing habits
Of course, the big problem with the Freeview receiver is that the driver can watch it while on the move – there's no fail-safe to prevent you using it when the unit is mounted in the screen cradle or when in motion. There's just a warning screen telling you that watching telly while driving a car is daft and stating that any resultant catastrophes are not Mio's fault.
Another failing is the absence of a headphones jack, which rather limits how you can use the 575 as a handheld telly. The mono speaker does a good job but it will still annoy anyone within earshot who doesn't want to forcibly partake of whatever TV programme you are watching.
The V575's battery has a useful 1050mAh rating but it still struggles to give a full hour of TV away from a 12v or USB power source. With a nod towards indoor viewing, Mio bundles a mains charger.
Verdict
Lack of a headphones jack aside, elsewhere, the V575 is hard to fault. As a navigation device it does everything you could expect from a £150 PND and the Freeview integration is pretty decent too. My only concern is that Mio isn't just making one unit for me, it's making thousands of them for you lot, and I don't trust any of you not drive along the road while watching Top Gear re-runs on Dave. ®
More Satnav Reviews...

TomTom
Go Live 1005
Garmin
Nüvi 3790T
Navigon
70 Plus
Mio
Navman 470
Sponsored: Minds Mastering Machines - Call for papers now open

Mio Navman V575 TV satnav and Freeview tuner
A successful, albeit potentially hazardous combination of PND and handheld Freeview telly.