Marvel vs Capcom 3: Fate of Two Worlds
Comic moments
Power in numbers
The game's 36 fighters are beautifully animated, and each has their own distinct character. While several will be unrecognisable to all but the most faithful aficionados, there's a great range of major and minor figures in both camps, and some of the less familiar ones, such as Marvel's M.O.D.O.K. and Okami's Ameterasu, prove just as interesting to fight with as Captain America or Ryu.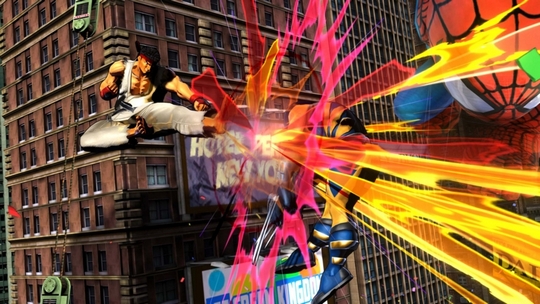 Thigh scraper
It's a shame, then, that the variety and balance displayed in the characters and fighting mechanics isn't replicated in the game modes, which are severely lacking. No matter which team you assemble, the regular Arcade mode is an identical, short six-fight competition, concluding with an ultimate, but completely disconnected, face off against Galactus – which, incidentally, is typically impossible Capcom boss fare on Hard or Very Hard. And Mission mode only extends the challenge for those completionists committed to pulling off every combination with every character. But it's the lack of time attack mode, survival mode or bonus games that will leave casual players feeling most short-changed by MvC3's single player offering..
MvC3's on-line offering also leaves a lot to be desired at present. There are currently only Ranked, Player and Lobby Matches – the last being a repeat of SSFIV's Endless Battle mode but, annoyingly, without any spectator mode whatsoever. Lag was also present in every match I played, but it was no worse than SSFIV, and the game remained playable throughout.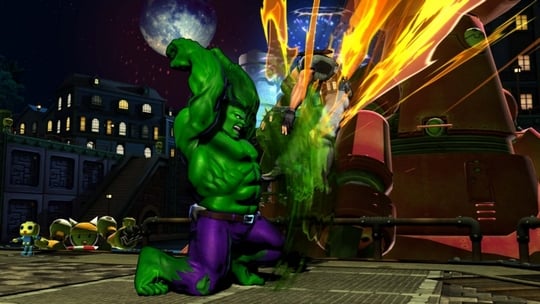 The not so jolly green giant
Verdict
Marvel vs Capcom 3 is a victim of Super Street Fighter IV's generosity. While there's no denying the sharp execution of its fighting mechanics, or the gaming spectacle of its 50+ hit hyper combos, there's no excusing the paucity of content on offer. The on-line teething problems might soon be fixed and new fighters and on-line modes added in the obligatory DLC. However, it will take a lot more than that to see Marvel vs Capcom 3 emerge from under the shadow of Capcom's flagship fighter. ®
More Games Reviews

Mindjack
Dead
Space 2
DC Universe
On-line
Mass Effect 2
for PS3
Sponsored: Minds Mastering Machines - Call for papers now open

Marvel vs Capcom 3: Fate of Two Worlds
A brilliantly executed fighter, let down by obvious content exclusions. Available on Xbox 360 (tested) and PS3