Optical drive
The 60D comes equipped with a number of artistic options, picture controls and custom settings. There are creative filters (grainy B/W, Soft Focus, Toy Camera and Miniature) that can be applied before or after capture and that have quite a sophisticated, tasteful effect. Also Highlight Tone Priority broadens dynamic range to improve quality of detail in highlight areas and AutoLighting Optimizer automatically improves the brightness and contrast of an image.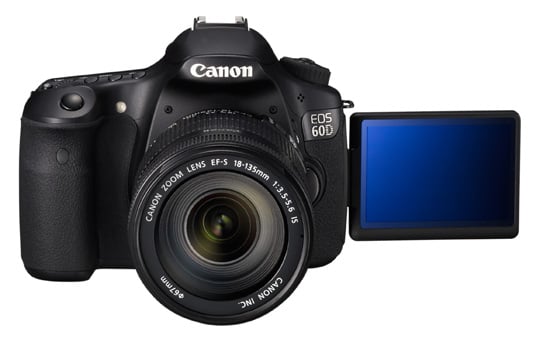 Winning combination? A lightweight shell with some semi-pro properties
I tested the camera with the EF-S 18-135mm f/3.5-5.6 IS kit lens. It's very much is a consumer zoom, but the build quality is more solid than most lenses at this level and it is sharper than I expected. At maximum focal length it does suffer from softness and colour fringing at the edges, and the lack of a USM (ultrasonic motor) makes it a bit noisy when the autofocus kicks in.
Verdict
Although not particularly innovative – mostly borrowing features from other EOS models – the EOS 60D nicely fits the market section between beginner and semi-pro DSLR models. With virtually the same image quality of the EOS 7D plus a swivel LCD screen, the Canon EOS 60D is an accomplished DLSR that will no doubt satisfy the most demanding and advanced enthusiast. ®
Catherine Monfils is a professional photographer specialising in portraiture, lifestyle and fashion.
More Camera Reviews…

Pentax
645D
Leica
S2
Hasselblad
CFV-39
Nikon
D3s

Canon EOS 60D DSLR
Lower cost body construction meets semi-pro features to deliver a good all-rounder DSLR for enthusiasts.
Price:
£1100 (body only), £1200 (with 18-55mm kit lens), £1400 with (18-135mm kit lens) RRP
More Info:
Canon's EOS 60D page
COMMENTS
Re: While I enjoy camera-porn...
You might have noticed the number of mid-level DSLRs in the hands of all kinds of people out at events. I'd have expected this (or perhaps even the next step up) to be right up the alley of the typical Reg reader, but then I'm no market researcher.
My 2p
"decided against a simple upgrade of the previous model, the EOS 50D"
Indeed, it is a down-grade if you want to compare it to the 50D.
"replacement of the dual function buttons with single function buttons "
Yes, so you now have to wade through menus to change settings that you used to be able to change by pressing a button and rotating a wheel.
"upgrading from the EOS 50D"
To do that, you would buy a 7D or a 5DII from Canon's range. The 60D is not a step up.
(Owner of 450D, 50D, 7D and have used 60D)
Check out the Pentax K5
It has weather sealing, a magnesium body, and in body lens stabilisation for every lens added including those made 30 years ago.
The Pentax has 7.7fps and much the same metering/focus points with better high iso image quality.
The only thing the Canon has over it is slightly higher mp (16 vs 18) a swivel LCD and full manual video control, but video is of minor importance to me. I bought my camera for pictures not video.
Thanks, Canon!
I bought a 40D a few years ago after the 50D came out - while the 50D was a little bit better, the 40D was heavly discounted. The 60D doesn't make me feel like I need to upgrade. Canon just saved me alot of money.
Sounds all very whizzy but....
I would save the money and spend it on Lenses instead, I have a 400d and a 50d. The 50d body makes the 400d feel like a fisher price camera and it was well worth the money.
I think that it says something that they have compromised professional requirements (fps) for consumer requirements (in camera effects) and as such will not be upgrading. I was hoping that the full frame sensors such as the 5d Mk II would be starting to filter down into the lower cameras but hey ho.
Personally, though no one looking to buy a camera is going to listen, if I were in the market for a DSLR I would buy an older model and instead spend a bucket load on courses and days out to take pictures.