Play your cards right
The EOS 60D has full HD video recording capabilities that can be activated at the touch of a button. You have a choice of 24,25 or 30fps in HD resolution or 50/60fps in 720p and VGA. Video capture can be initiated in both Program and Manual mode but specific settings cannot be changed once recording has begun.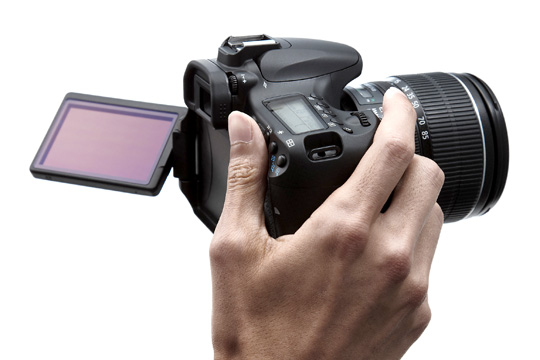 The articulating LCD is great for video, if you have SD cards that work, that is
There is no constant autofocus option but you can manually trigger single autofocus bursts by half pressing the shutter. The image quality of the video clips is very good and the built-in microphone produces clean sound.
A word to the wise though, I kept encountering an annoying glitch while shooting videos. Randomly anywhere between 8 and 20 seconds into the recording the following error message appeared "recording has been stopped automatically" and movie capture abruptly halted. According to the manual this is a card speed issue and advises to use cards with writing speeds of 6x or above. I tried a few fast speed cards that have worked perfectly well on many other cameras but the problem persisted.
A quick browse on-line revealed this is a recurring issue and, apparently, Canon suggests using a specific leading brand. I'm many buyers would be none too pleased to ditch their current cards to satisfy the fussy storage preferences of the EOS 60D, especially considering the market positioning of this model.
That said, it is the case that anyone upgrading from the EOS 50D will need to invest in new cards anyway, since the 60D moved from CompactFlash to SD storage. The EOS 60D, in common with the EOS 7D, now uses the LP-E6 battery, which is big step up in battery life.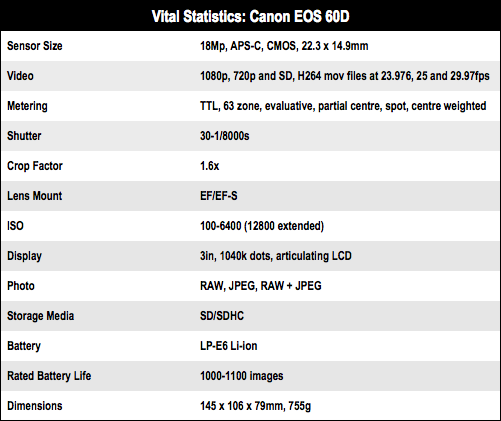 COMMENTS
Re: While I enjoy camera-porn...
You might have noticed the number of mid-level DSLRs in the hands of all kinds of people out at events. I'd have expected this (or perhaps even the next step up) to be right up the alley of the typical Reg reader, but then I'm no market researcher.
My 2p
"decided against a simple upgrade of the previous model, the EOS 50D"
Indeed, it is a down-grade if you want to compare it to the 50D.
"replacement of the dual function buttons with single function buttons "
Yes, so you now have to wade through menus to change settings that you used to be able to change by pressing a button and rotating a wheel.
"upgrading from the EOS 50D"
To do that, you would buy a 7D or a 5DII from Canon's range. The 60D is not a step up.
(Owner of 450D, 50D, 7D and have used 60D)
Check out the Pentax K5
It has weather sealing, a magnesium body, and in body lens stabilisation for every lens added including those made 30 years ago.
The Pentax has 7.7fps and much the same metering/focus points with better high iso image quality.
The only thing the Canon has over it is slightly higher mp (16 vs 18) a swivel LCD and full manual video control, but video is of minor importance to me. I bought my camera for pictures not video.
Thanks, Canon!
I bought a 40D a few years ago after the 50D came out - while the 50D was a little bit better, the 40D was heavly discounted. The 60D doesn't make me feel like I need to upgrade. Canon just saved me alot of money.
Sounds all very whizzy but....
I would save the money and spend it on Lenses instead, I have a 400d and a 50d. The 50d body makes the 400d feel like a fisher price camera and it was well worth the money.
I think that it says something that they have compromised professional requirements (fps) for consumer requirements (in camera effects) and as such will not be upgrading. I was hoping that the full frame sensors such as the 5d Mk II would be starting to filter down into the lower cameras but hey ho.
Personally, though no one looking to buy a camera is going to listen, if I were in the market for a DSLR I would buy an older model and instead spend a bucket load on courses and days out to take pictures.