Five Reasons to be cheerful about Nokia-Microsoft
There's a Silverlight at the end of the tunnel...
3. Google needs competition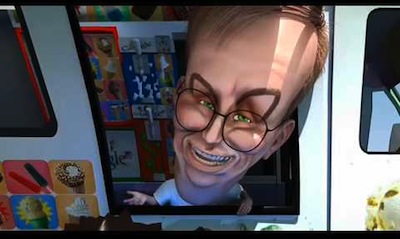 When consumer groups hire a 50-foot-tall video screen in Times Square to show a movie of your competition as a creepy pervert, how hard is to look like the good guy? When your competition has a sideline snooping Wi-Fi networks, copying millions of books without their author's permission, and acts as the global information keeper, surely you must find something in common with the people it is going to eat for lunch? Nokia really does sees itself as more co-operative and ethical than Google, which spent years lobbying for anti-mobile operator legislation. But it is Google who has been winning the business among its traditional carrier customers.
Google's Android has been a terrific, and deserved success, yet operators are nervous about how long Google can fund this loss-bleeder, and where the value is going to end up. Google wants all of the data for itself. Nokia gives too much away to partners. If Nokia-Microsoft can't score here, they really should give up.
2. Fewer, better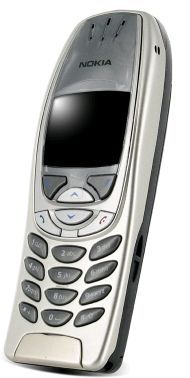 Nokia's marketing bureaucracy was once held in awe by competitors, but as the products became less attractive, it became more bureaucracy than marketing. The product managers created their own fiefdoms; Nokia exhausted every kind of sophisticated segmentation strategy possible. Nokia now creates dozens and dozens of variants of the same phone, and dozens of slightly different versions of the same innards. Design has become abstract. Elop wants to turn Nokia into a product-centric company, as it was before the 2004 split into competing units. This means fewer, simpler, much better designed products.
It means breaking the feedback loop: much of Nokia's bureaucracy is involved in measuring and monitoring responses to itself – within a few seconds of landing on its site, you are hit by a questionnaire. The same applies to its design religion. Take this observation from designer-in-exile, Juhani Risku:
"There is a philosophy called Contextual Design, every designer at Nokia has been trained in it by the guru Karen Holtzblatt. Everybody has attended her courses and got her very expensive book signed. The idea is that you ask the users what they are doing, then design something. If you think about Apple, they don't ask anybody. The idea of users as designers is a catastrophe."
Nokia needs a root-and-branch reconstruction of its design function, with far fewer designers and much less abstract bollocks.
1. There is no alternative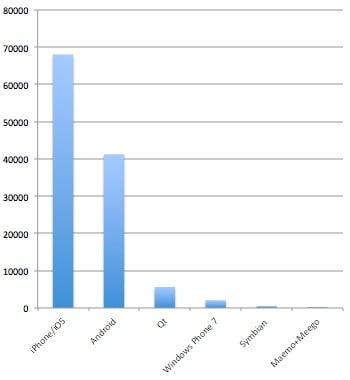 Well, there isn't now, is there? Here's a graph of developer search queries on popular programmer forum stackoverflow.com, which shows the level of interest in each platform. It isn't scientific, and it's biased towards Nokia's old strategy as Qt is the aggregation of several Qt-related queries. There is almost no interest in developing for Nokia's current platforms or tools. It has failed. It is time to bury it.
And the chance to buy WebOS had come and gone.
In addition, Windows Phone really isn't a bad start. I expect other OEMs to flee – with an 800lb gorilla in the room, Nokia should have this "ecosystem" all to itself – although Elop must persuade Microsoft to quietly forget it has a licensing business at all, just a Very Special Hardware Partner.
And give the Beast some credit: Windows 7 is Vista without the most annoying bits. Small focus teams within Microsoft can still deliver excellent work. But they, along with Nokia's most creative designers and best engineers, have to work in isolation, shielded from their respective bureaucracies.
Have I missed anything out? Let me know. ®
Sponsored: Learn how to transform your data into a strategic asset for your business by using the cloud to accelerate innovation with NetApp