Carphone Warehouse wins Moto Xoom exclusive
Honeycomb honeypot
Carphone Warehouse has the UK exclusive on Motorola's Xoom tablet.
And that's all the mobile phone retailer said - there was no word on price, or availability.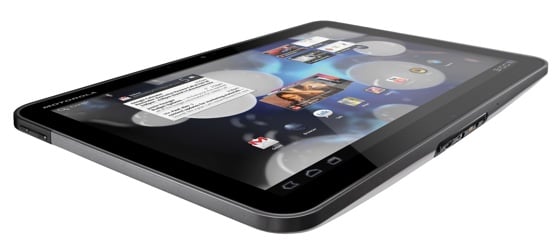 Best Buy, the US superstore giant with whom CW has a joint venture over here in the UK, has priced up the 10.1in Android 3.0 Honeycomb tablet at $800, equivalent to £496 at today's exchange rate.
The US retailer will begin selling the Xoom on 24 February - next week.
Motorola itself has hinted that Xoom will arrive here in Q2.
Xoom has a 1280 x 800 display, a 1GHz dual-core processor, a 5Mp video camera and a 2Mp webcam. It has HSPA 3G connectivity and 802.11n Wi-Fi. ®
COMMENTS
Are you sure
Are you comparing the same spec iPad to the Xoom, as I make them out as being the same price but the Xoom gives you the full internet
Hurry Up
Get the wifi only version out, the last thing I need is another 3G data plan
Vodafone?
I thought Vodafone only had the exclusive on the Samsung Tab 10.1, or do you know something we don't?
Seeing it's CW handling it it, should be available on most networks.
Not bad
The price will be ridiculous. But at least Carphone W. hopefully will not sell it with tonnes of junk on it.
Pity it's only going to be offered with Vodaphone. 3 offers a far cheaper data rate.
sexy
1280 x 800 + DualCore cpu + Honeycomb = sex. I am tempted.http://www.reghardware.com/Design/graphics/icons/comment/go_32.png