NASA's Stardust braves cometary flak
Survives photographic close encounter with Tempel 1
Of particular interest to scientists is the result of the whack Tempel 1 took from the Deep Impact spacecraft impactor back in July 2005. It's released a before-and-after comparison of the impact site: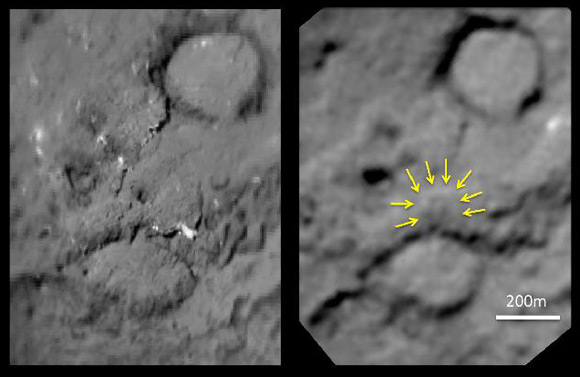 NASA explains: "The left-hand image is a composite made from images obtained by Deep Impact in July 2005. The right-hand image shows arrows identifying the rim of the crater caused by the impactor. The crater is estimated to be 150 meters (500 feet) in diameter."
Pete Schultz of Brown University elaborated: "We see a crater with a small mound in the center, and it appears that some of the ejecta went up and came right back down. This tells us this cometary nucleus is fragile and weak based on how subdued the crater is we see today."
Stardust launched back in February 1999, on its primary mission to "collect dust and carbon-based samples during its closest encounter with Comet Wild 2" in January 2004.
These samples, plus interstellar dust, returned to Earth in January 2006 aboard a capsule which parachuted to earth in Utah
NASA then sent the spacecraft on its final mission - officially dubbed Stardust-NExT ("New Exploration of Tempel") - although it's not quite ready for retirement.
Tim Larson, Stardust-NExT project manager at the Jet Propulsion Laboratory, said: "This spacecraft has logged over 3.5 billion miles since launch, and while its last close encounter is complete, its mission of discovery is not. We'll continue imaging the comet as long as the science team can gain useful information, and then Stardust will get its well-deserved rest." ®
Sponsored: Minds Mastering Machines - Call for papers now open