Good all-rounder?
With pricing around £150 without a hard disk, which appears necessary to instal the software required for many of the streaming features, and no iTunes streaming support, the iXtreamer may not be the cheapest or most iFriendly option out there. However, it is a good media streamer with potential to evolve as the development community continues to improve some fairly unique features.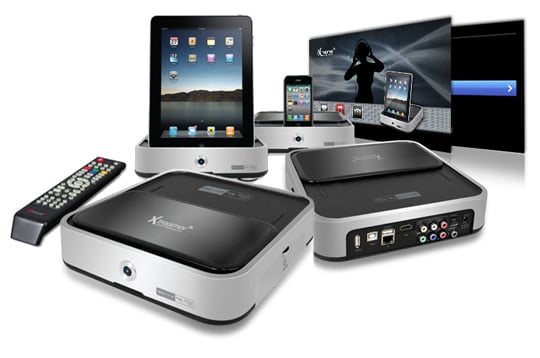 Some very useful features, but needs refinement
Verdict
So while the iXtreamer might not be feature the most complete range of integration to suit Apple iFans, for more casual iDevice users after compatibility with a neat bit of living room kit, it could well be just the job. Certainly, worth keeping an eye on as the software advances into something more polished. ®
Thanks to AdvancedMP3Players for the loan of the review sample.
More AV Gear Reviews…

D-Link
Boxee Box
DSM-380
Western Digital
WD TV
Live Hub
Sling Media
Slingbox
Pro-HD
Group Test:
AV Receivers

iXtreamer dock with IPTV
iDevice-friendly dock with streaming and Nas options.
COMMENTS
Why 10/100?
The 480i output is when outputting a clone of IOS (at least that's how I read it)
Output of other media will be up to 1080p
Why is a gigabit port of any use to media streaming device? To stream media that's over 100Mbps? And where would that content come from?
Why
For the media angle, why would anyone buy this over the much cheaper and better (for the media stuff) Apple TV?
You get a much better interface, can use the iThingy as a remote or use AirPlay.
Okay, so you don't get a 'bring your own disc' NAS box, but I reckon you could buy a capable one for the price difference.
Gigabit because...
it's a NAS too?
Can anyone confirm ...
Can anyone confirm whether this will output composite video from an iPad, iPhone, iPod Touch which will work on a CRT TV?
I'm confused
The reviewer claims that when playing from a network- or USB-attached DVD player, the quality is "as good as any standalone player I've ever used". And yet according to page 1 this dock only outputs at 480i. Is there some sort of upscaling not mentioned in the article, or has the reviewer simply never used a decent DVD player?