HTC shuns Honeycomb for Android tablet debut
Gingerbread instead
Smartphone maker HTC's upcoming Android tablet, Flyer, will run the Gingerbread version of the operating system, not the tablet-centric Honeycomb.
Flyer was launched yesterday at Mobile World Congress (MWC). At the time, HTC didn't say which version of Android the 7in tablet would use, stressing instead that it will be overlaying its Sense UI on the device.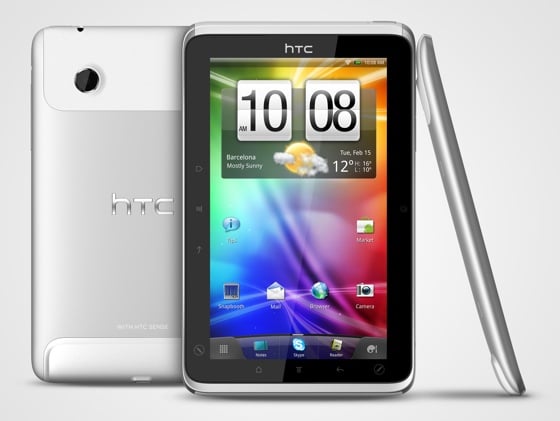 HTC's Flyer: smartphone or tablet?
Today, UK network operator Three announced it will be offering Flyer and revealed that the device runs Android 2.3 Gingerbread.
Yesterday, it emerged that Toshiba's Folio 100 tablet, yanked from the market due to problems with its implementation of Adobe Flash but set to go back on sale in March, will run Android 2.2 Froyo and not be upgradeable to Honeycomb.
It's increasingly looking as if Honeycomb tablets will be pitched as premium offerings - with a price to match - while Froyo- and Gingerbread-based tablets fill out the 'budget' end of the market. ®
COMMENTS
No Honeycomb, No Buy!
I wouldn't want to buy a pad without Honeycomb - why buy anything than is less than optimal?
Perhaps Google will commission a no bells and whistles version so we can enjoy the fruits of their labours without manufacturers screwing around with it.
It's the sense ui
From experience and also XDA-developers it's the Sense UI that causes the problems.
HTC put some hooks deeply into the system and screw up things like proper bluetooth implementation.
HTC and its updates
Just be sure you get a written confirmation that if you buy this tablet that they will keep it updated.
Their wildfire and desire hd looks like they'll be forever locked in their release versions. Never to be seriously upgraded.
HTC do seem to make a habit of promising updates that never appear!
So it's Sense's fault?
I don't even want Sense, first thing I'd do is turn it off. Not the tablet for me then.
Not cheap
I don't think this is a budget device, remember that Samsung tried to punt the less powerful Galaxy Tab for €800 when it came out.. I suspect that HTC are aiming for the same price range.